Why 108 security personnel for Mahinda M.P if bullet proof vehicle is unnecessary for president Maithri..? Anura Dissanayake the new body guard of Mahinda.?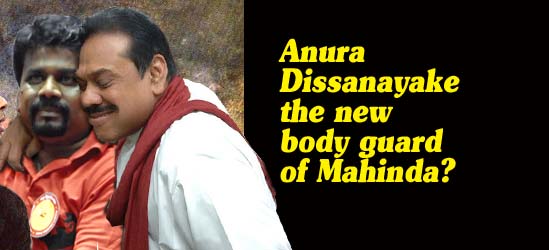 (Lanka-e-News- 06.May.2017, 11.45PM) The withdrawal of 42 security personnel from the security contingent of 108 personnel of Machiavellian mendacious ex president Mahinda Rajapakse has hurt and hit Anura Dissanayake the venal and villainous JVP leader for the wrong reasons. He has therefore made a statement in that connection in parliament , and alleged it is a political revenge directed against Mahinda .
Anura Dissanayake the notorious JVP leader, is already best known for worst political opportunism and cutthroat-ism was in the habit of grabbing monies from the UNP when the latter was in the opposition during the tenure of office of Mahinda Rajapakse is still persisting in that obnoxious habit. He is now grabbing money from the Rajapakses who are in the opposition. This faceless , policy-less unscrupulous politico who is more a wheeler dealer and less a principled party leader showing concern over the trimming down of the security detail of former crooked and criminal ex president, even more than Namal Rajapakse the ex president's son is therefore not a matter for surprise.
In any event , since this faceless policy-less JVP leader has also proved he is acutely lacking even in gray matter by showing this solicitude towards a most corrupt and criminal ex president , we deem it necessary that he is educated on the legal position in this regard. We hope he is intelligent and intelligible enough to understand what we are trying to teach him.
Truly , what is the security detail attaching to an ex president ? What is the strength of the security ? Based on a decision delivered by the Supreme court (SC) on 2007-05-03 , it is most clearly stated , the ex president is entitled to 7 police constables under an ASP.

This was a court decision secured fraudulently by none other than Mahinda Rajapakse via a notorious chief justice (CJ) Sarath N Silva of all times , who was the best man for Mahinda Rajapakse's wedding. He was also the same infamous CJ who gave a verdict in favor of Mahinda to save the latter in the Tsunami fund misappropriation case that was filed against Mahinda Rajapakse.

That decision determining the security detail for an ex president delivered at that time after Mahinda Rajapakse became the president was to take revenge on Mahinda's predecessor ex president Chandrika Bandaranaike Kumaratunge who even lost an eye due to an LTTE suicide bomber's attack.
161 security personnel of Chandrika withdrawn in a night
The court decision was delivered on the 3 rd evening . On the 5 th morning the security contingent comprising 168 personnel of Chandrika was trimmed down to 7 police constables . That is 161 security personnel were withdrawn in a night ! When that was questioned in parliament , the chief whip of the government at that time Dinesh Gunawardena dodged the issue by not giving an answer.
That time Anura Dissanayake could not open his mouth . Perhaps he feared if he opens, its stench would pervade the entire parliament. He remained silent because even at that time the venal and sinister Anura and his clan of opportunists were building their party headquarters after collecting many millions of rupees from Mahinda Rajapakse who was propelled to the presidential throne by Anura and his self seeking clan. As usual following the kickbacks received they were doing all the sordid biddings of Mahinda Rajapakse. Chandrika of course had to flee to England then to save her life .
When Chandika fled to England following the curtailment of her security , Mahinda on the other hand made his PSD (President's security division) security contingent into a team comprising as large as 4000 members of the forces .Machiavellian Medamulana included all his murderous pals into it ,while appointing them as majors and captains to form illicit para military murder squads . It were these murder squads of Mahinda's PSD who were responsible for the abduction and attempted murder of Mervyn Silva's son ;murder of two University students on Kandy road while painting the picture that was an accident; illicit digging for treasure across the entire country; and robbery of the valuable sword from the Museum.
If Chandrika's security is curtailed , why Mahinda be entitled to more personnel ?
Sadly , Mahinda who thought he would never taste defeat and is a nomerenna miniha (never will die) , after being thrown out lock , stock and barrel by the people is today strangled by the same court decision he manipulated against Chandrika then. According to that court decision , ex president Mahinda should be only entitled to 7 police officers under an ASP.
Mahinda the deposed and presently people discarded ex president is only a Kurunegala district M.P. Hence if the two security police officers he is entitled to as an M.P. , are added , he is entitled to a security contingent of 9 police officers. If at the peak of the war , Chandrika the ex president who was the target of the LTTE was only provided with a security detail of 7 police officers based on a court verdict , when the war is now over , 9 police officers as security detail for Mahinda is more than adequate .
While that is the true position , neither Maithripala Sirisena nor Ranil Wickremesinghe did nothing of any sort to curtail Mahinda's security to that extent. When Mahinda lost at elections , he was provided with a security contingent of 213 members. Thereafter based on a security evaluation , it was reduced to 108 members. . Now he has a contingent of 66 security personnel after it was trimmed down by 42 members . Hence the JVP leader becoming jittery over Medamulana Mahinda's security curtailment is for obvious reasons given his venal and carpet bagging traits. If the JVP leader is truly concerned , still he has the opportunity to become Mahinda's bodyguard and mudguard giving up his M.P. post , in which case the country will heave a sigh of relief – the country would gain through the riddance of another most opportunistic selfish , self seeking , sinister politician
Vehicle to ward off lightning and Mahinda's new bodyguard cum mudguard
We were critical of the good governance government over its vehicle mania , but criticizing the use of a bullet proof vehicle by the president for security reasons is reprehensible. This is because in any country the State leader must have a special security detail. Yet Machiavellian Mahinda the presently discarded deposed ex president made a most abominable announcement in regard to the bullet proof vehicle used by the incumbent president.

Mahinda said , he used a bullet proof vehicle because there was a war during his time when he was president. But now , since there is no war , Maithripala Sirisena cannot be allowed to use a bullet proof vehicle. Hence , if Maithri is using a bullet proof vehicle now , it is not to protect against bullets but against lightning striking him. Mahinda made these remarks before his lickspittles and lackeys most joyously amidst cheers.
If Mahinda is arguing that since there is no war now , the security detail of president Maithripala shall be reduced , then by the same token the security contingent of Mahinda shall also be reduced from 66 personnel to 9 , in accordance with what the law permits for an ordinary M.P. like Mahinda.
All these days when the corrupt crooked Rajapakse rascals were being brought before the law for their monumental rackets and frauds , it was only the Rajapakse crooks and criminals who screamed that those actions were motivated by political vendetta , but now wheeler dealer Anura Dissanayake also falling into that category of crooks and criminals with his 'Anura's deal debates' surely deserve to be publicized to the whole world. The true JVP members must feel ashamed at the hypocrisy , villainy and venal actions of their leader who is a disgrace not only to the party but a bane to the entire country .
By Chandra Pradeep
Translated by Jeff
---------------------------
by (2017-05-06 21:50:13)
We are unable to continue LeN without your kind donation.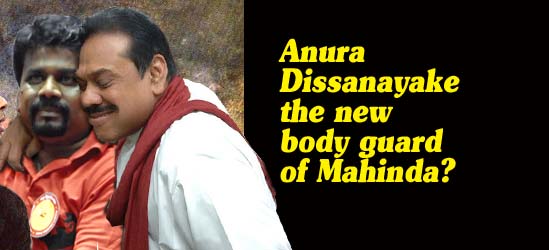 Leave a Reply