Infamous brothers Arjuna-Dhammika rob the Port after registering two spurious Cos. ! Monthly illicit earning Rs. 4 to 5 million..!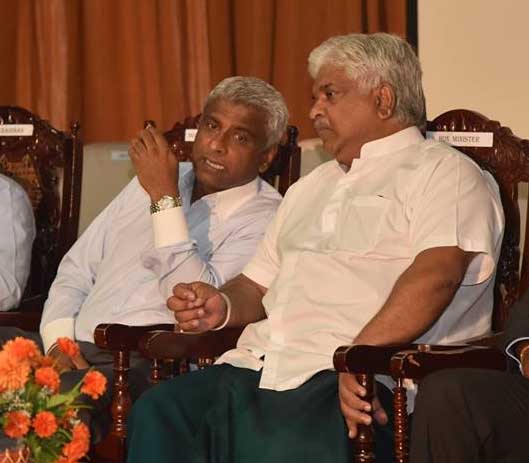 (Lanka-e-News - 30.April.2017, 9.20PM) Yet another fraud committed by the most notorious minister of Ports , Arjuna Ranatunge of the good governance government , an infamous Blue Brigand crook jointly with his uneducated brother , Dhammika Ranataunge the Ports chairman has come to light , based on information reaching Lanka e news inside information division
This fraud has been committed through the formation of two spurious companies by the Ranatunge brothers, and producing bogus vouchers to collect monies for the services provided in connection with the unlocking of cargo of the cargo vessels arriving at the Port and locking of cargo that are loaded to the cargo vessels at the Port .
There were ten companies registered to carry out the above services . Now , two Companies by the names AAN marine service and ANT marine services which are the fake companies of Ranatunges , have also been registered to provide the services.
Now that these two companies have been registered , after submission of bogus vouchers payments are collected fruadulently . The sum involved in this fraud is as large as Rs. 4 million to 5 million rupees per month! Unbelievably , there isn't a single employee of these two fake companies engaged in any services in the Port. If there are employees of these two companies , they should have Port permits etc. to enter the Port. No such permits have been issued. But collecting payments through bogus vouchers are going on unhindered monthly , and it is these two infamous "crooked brothers' Company" having control over the Port which is collecting these illicit funds.
These aforementioned spurious companies have been fraudulently registered by the Ports management advisory service Pvt. Ltd. The corrupt and crooked Ranatunges having identified this service as the floodgate for their plunder and robberies ,firstly appointed a notorious paramour of Arjuna Ranatunge as its CEO , and her name is Maneesha Kannangara . Maneesha who was living together with Madhawa Wannegedera for a long period , was 'robbed' by Arjuna. The latter gave her residence at 380/76 Sarana road , Baudhaloka Mawatha , in on e of the official houses belonging to the Ports . Later , when Lanka e news exposed Maneesha –Ranatunge scandal , and amidst the protests raised by the employees of the Port, she was removed from the post of CEO of the Ports management advisory services , and was made a director of Shipping Corporation thereby absorbing her into their ministry .
Subsequently , another cousin brother of Ranatunges by the name of Mangala Gunasekera was appointed as CEO of the Ports management advisory service Pvt. Ltd. It is a well and widely known fact it was this Mangala Gunasekera who gobbled up billions of rupees on the Galle Face Christmas tree which too was a fake project supposedly aimed at creating a world record but ultimately ending in the world's ignominious records ! It is this same Mangala Gunasekera , a buddy of the same feather robbing together with the Ranatunges , like birds of the same feather flock together , who has registered the two companies , AAN and ANT marine services illicitly.
---------------------------
by (2017-04-30 15:56:09)
We are unable to continue LeN without your kind donation.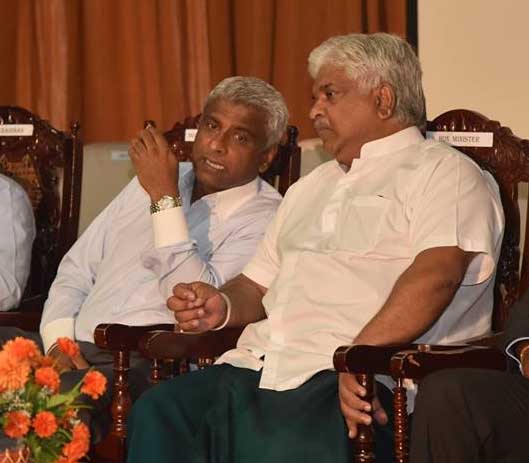 Leave a Reply