Cricket Association which is already a den of thieves gets one more thief ! This time a 'UK man'!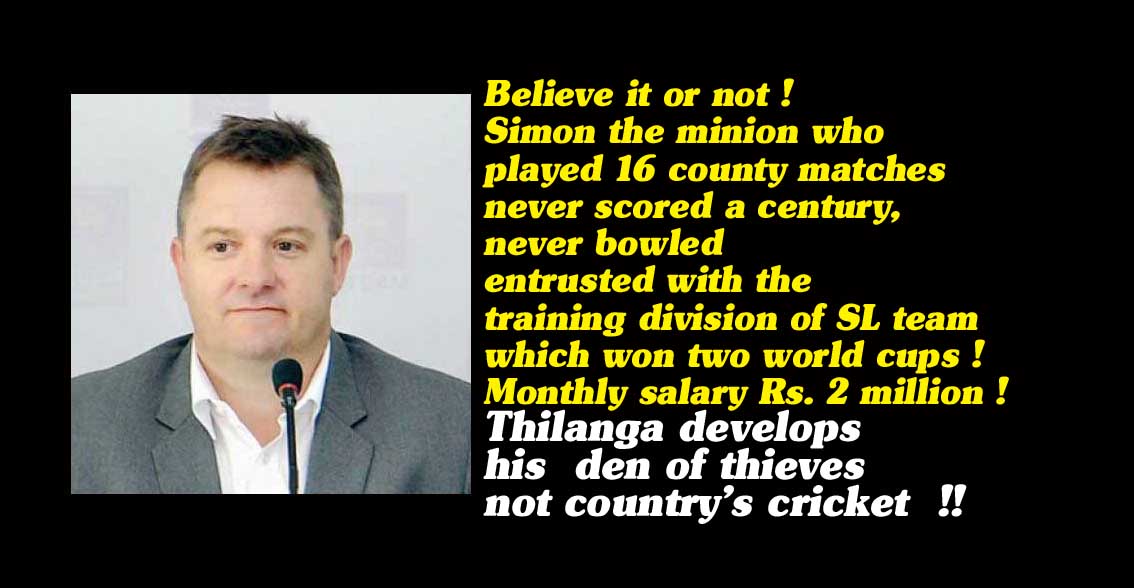 (Lanka-e-News -25.April.2017, 11.45 PM) Sri Lanka cricket board is most infamously famous as a leading Institution among all the Institutions of Sri Lanka (SL) for granting jobs to the useless , worthless and jobless idlers .
'Thanks' to president Maithripala Sirisena , for appointing Thilanga Sumathipala as the chief of the cricket Association who was carrying out duties of a refuse sweeper in the cricketing sphere . In fact Thilanga who was swept aside like refuse most disdainfully as useless and worthless from politics as well as by the people was also given a deputy speaker post by Maithripala Sirisena .
The employees of the Cricket Association Shammi Silva , Aruna De Silva , Anura Weerasinghe , Sujeewa Godaliyeddha , Godfrey Dabarera, Raveen Wickremeratne , Priyantha De Soysa and Ray Raymond became millionaires , with the aiding and abetting of Thilanga .
Currently , Jayantha Dharmadasa and Mathivanan who steered Thilanga to the chief position are today in the 'thick of the jungle.'Hence , the cricket association is presently run by Thilanga and the den of thieves named above.
The Western cricket association is by now made the treasury under the control of Anura Weerasinghe and Aruna De Silva, while Thilanga is its chairman. All the profligacy were committed , and monies were sent down the drain through the Western cricket association . Already there are a number of complaints made to the FCID regarding the financial misappropriations. ( We shall reveal details via a subsequent report ).
Meanwhile , a British national recruited by Thilanga, after learning all the tricks and thefts from these accomplished crooks , has begun his own new thieving and scheming.
When the Cricket Association needed a trainer for its proposed technological training division , Simon Willis who was with Aravinda De Silva in Kent then , and afterwards worked as an office worker was the only one summoned for the interview. He was then appointed as the manager on a basic salary of US dollars 12000.00 per month (about Rs. 2 million ) together with other perks .
Though the training division of the Association has been brought under Simon Willis , he knows only sweet bugger all about test cricket , which fact even the trainers themselves confirm. Simon Willis is a nitwit who has never played Test cricket in his whole lifetime. When Aravinda was dazzling the Englishmen at Lords play ground , Simon was not around even to carry water to the English team.
Simon the minion had played only 16 County cricket matches for Kent. He had never ever scored a century , and his highest score was 82 runs. He had never ever bowled. Being a wicket keeper , during the whole career covering 16 matches , he has only done 3 successful stumping.
In later years he was selected as the director of Kent academy. He related a most queer story when he took up that appointment. He said , his ambition is to train Kent school cricketers until they reach the level of Kent county cricket. In other words he confirmed he has no aim or ability to train Kent school cricketers to reach national level. In a country where two world trophies were won , Thilanga and his clan have chosen such an incompetent and incapable nitwit to be entrusted with the task of training our players, wasting colossal amount of money.
No matter what , Simon who is silently hiding his handicaps has commenced a business with his friends in England. Using the Cricket board to get down teams from England, already through his intervention three teams arrived in Sri Lanka. Simon who allocated playgrounds through the cricket association after getting them at dirt cheap rates , only lined his pockets on which his sole and whole gaze is fixed.
Secretary Mohan De Silva is aware of the racket but since Simon is Thilanga's 'man', he is pretending that he does not know.
Thilanga the clever and crafty bookmaker who knows how to fleece the punters also knows he can achieve his foul objectives by involving an Englishman . Thilanga takes Simon along with him for every press interview , and for distribution of cricket gear Island wide. He also allocates time for Simon to make speeches.
It is most disgraceful even to hear what Simon Willis along with the cricket board including Thilanga well versed in deceptions and histrionics are striving to falsely project and portray- that theirs is the best administrative board in the whole wide world.
What's more, Simon also has found his way into the cricket tournament as a critic. Simon who is a divorcee in England has found a lover too in Sri Lanka . Soon Simon is to be married and preparations are ahead to make Simon the minion , a slimy 'Simeon' of SL.
Simon the minion , as long as he is showered with all the perks and benefits would of course be doing much more in the direction of destruction for the SL cricket team. One thing is sure , all those will be for the bane of country's cricket and not for its benefit. It is the view of the employees , as long as Thilanga and his clan's interests and selfish agendas are served , Simon the minion will be protected and his own selfish objectives served.
When minister of sports Dayasiri Jayasekera is deaf and blind to all these rackets taking place under his very nose, the fate of the SL team which lost to Bangla Desh is writ large on the wall.
By LeN special correspondent
Translated by Jeff
---------------------------
by (2017-04-25 20:43:35)
We are unable to continue LeN without your kind donation.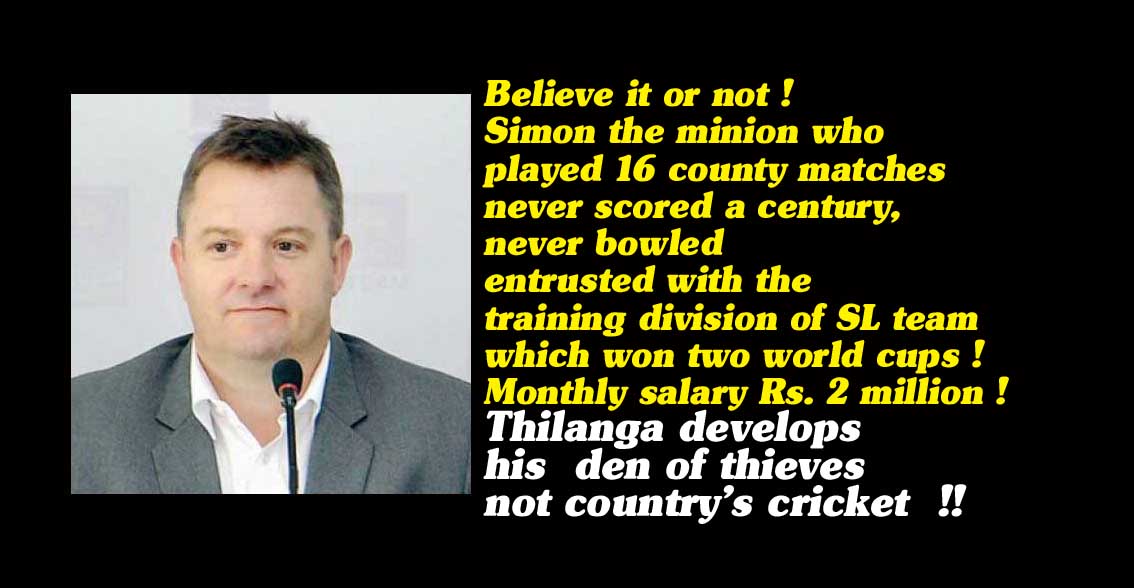 Leave a Reply