Cargills makes huge investment in national production -inaugurates milk factory at Mirigama !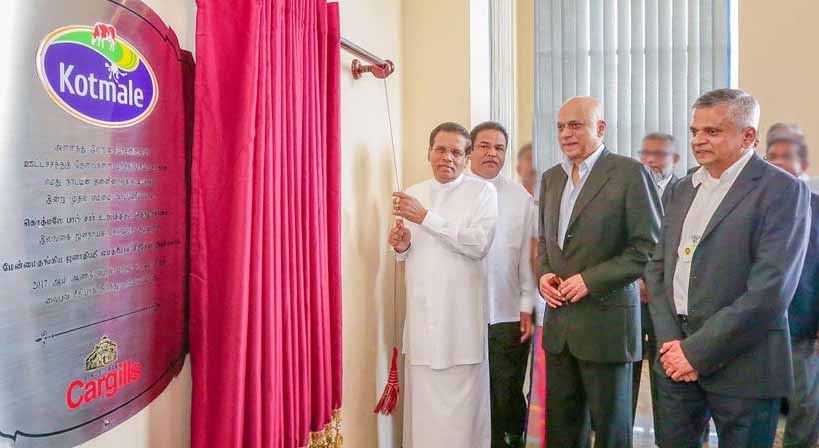 (Lanka-e-News -07.April.2017, 9.35AM) The new Kotmale milk production factory established at Mirigama through a massive investment in the national milk production Industry by Cargills Co. was inaugurated by president Maithripala Sirisena on the 3 rd.
The president after unveiling the plaque and inaugurating the factory went on an exploratory tour of the area.

Reputed Cargills Co. which has been in business as far back as from 1844 , unlike Maharaja wheeler dealers have never engaged in underhand corrupt deals in association with crooked and bankrupt politicos. They have maintained their business name and fame all along without earning the disreputed epithet 'mahajara' (filthy lucre) , another name for Maharaja .
The Director Board of Cargills must be thanked for investing in this essential Industry despite the fact it is a most difficult Industry . The nation must know it is Dr. Jayantha Dhanapala a most eminent personality who heads the board of Directors of Cargills company in contrast to mahajara Maharaja of Maharaja enterprises.
Apart from the business of food and its marketing , Cargills has now extended its tentacles to other commercial ventures including agriculture , fisheries and even book publications .

Minister P. Harrison , chairman of Cargills Lanka Co. Lourdes Page , deputy chairman Ranjith Page and a group were also present at the inauguration ceremony.
Several photos taken on the occasion are herein.
---------------------------
by (2017-04-07 04:13:10)
We are unable to continue LeN without your kind donation.
Leave a Reply