Sandya receives coveted 'International women of courage' award for 2017 from U.S. State department !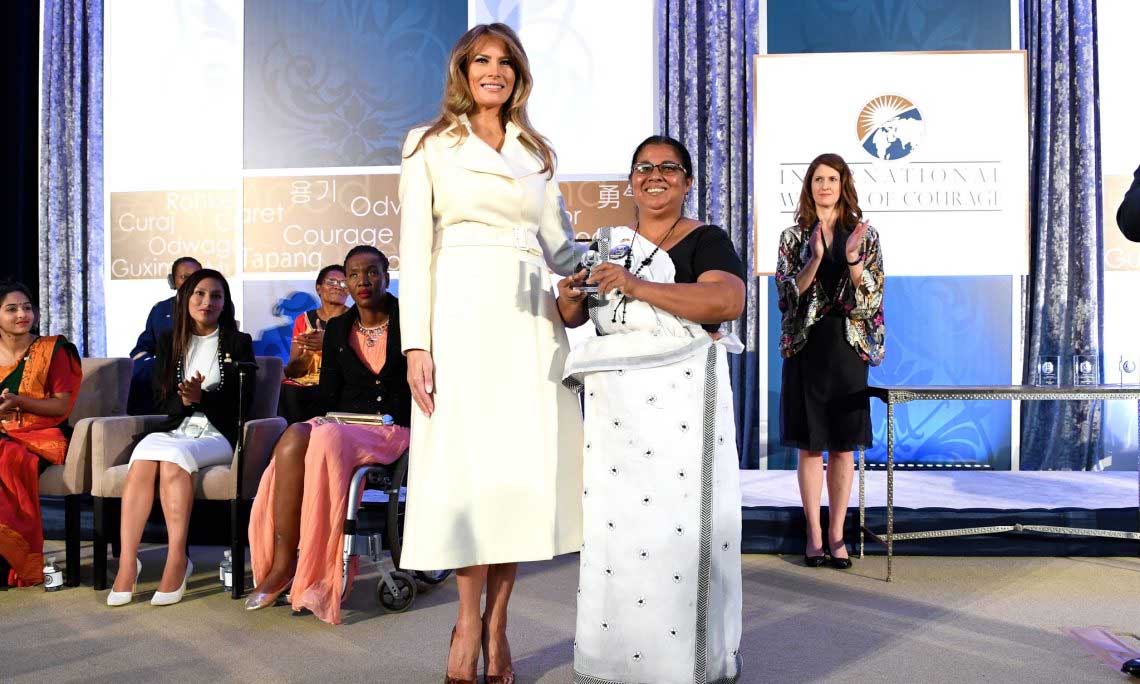 (Lanka-e-News- 31.March.2017, 11.50AM) Ms. Sandya Ekneliyagoda , the wife of Prageeth Ekneliyagoda who disappeared while working for Lanka e news received the 'International women of courage' award for 2017 of the U.S. State department on the 29 th .
Sandya received this award at the US state department located in Washington from the first lady Melania Trump ,wife of US president Donald Trump. The US State department undersecretary of State for political affairs Thomas A. Shannon was also associated with this event.
Since the disappearance of her husband, Prageeth in 2010, Sandya has made over 90 court appearances to find answers and hold perpetrators accountable. She travelled regularly throughout Sri Lanka to support families of disappeared victims of the 30 years old war , including those from the war-torn Northern and Eastern provinces, the State department announced.
"Sandya represents the dedication and perseverance of women from all ethnicities across Sri Lanka who are seeking information about their missing loved ones," said U.S. Ambassador to Sri Lanka Athul Keshap.
Sandya Ekneliyagoda after receiving the award speaking about her campaign said , "Pursuing the truth is not a crime. Protecting the perpetrators is."
To her most important above enunciation and her receiving the international award , sadly there also exists a most cruel side : The incumbent good governance president from whom most grief stricken and depressed Sandya Ekneliyagoda asked for an appointment in her distress , had still not granted her an appointment despite the fact he was elected after throwing out the brutal Rajapakse reign lock ,stock and barrel , which was responsible for the abduction and disappearance of her husband Ekneliyagoda . Ironically , while ignoring her request , the president even went as far as to exert pressures to release the army criminals who were involved in her husband's abduction and disappearance . Much worse ! he even reinstated the army suspects in their posts while the criminal case is still being heard in court.
Since the inception of this International women of courage award in 2007 in recognition of their extraordinary courage and valor in the spheres of human rights, justice, peace and gender based inequities , the Department of State has honored nearly 100 women from 60 different countries, including Jansila Majeed of Puttalam , Sri Lanka (SL) in 2010 for her advocacy on behalf of internally displaced persons. She was the first to receive this coveted award in SL.
In the photographs :
Sandya, with the First lady Melania Trump after receiving the award and
Sandya posing for a photograph with the other 12 award winners.
---------------------------
by (2017-03-31 06:27:53)
We are unable to continue LeN without your kind donation.
Leave a Reply