Mobitel launches first "Smart Bus Halt" in Sri Lanka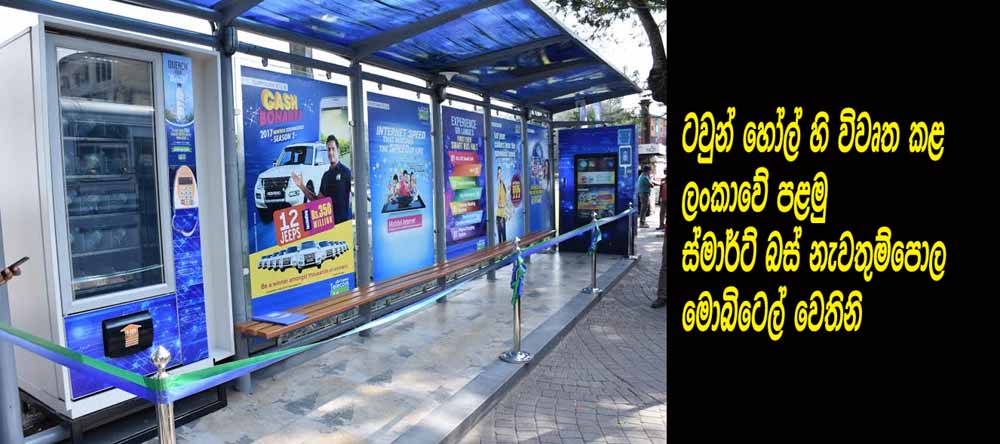 (Lanka-e-News- 26.March.2017, 6.15AM) The National Mobile Service Provider Mobitel takes a pioneering step forward in the transformational change of Colombo in to a Smart City with its state-of-the-art Smart Bus Halt situated at Town Hall, Colombo. This significant step, spearheaded by the Mobitel Innovation Center, showcases the ways in which touch of technology can propel the experience of an everyday commuter to new heights.
In line with the brand promise of Mobitel - we care always; the smart bus halt is equipped with 4G LTE and Wi-Fi with the aim of delivering superior service quality and an exceptional user experience to the customer. A Smart Vending machine at the premises is also ready to dispense beverages with a touch of your mobile, highlighting the effectiveness of cashless payments. For a limited time, the machine will also provide thirst –quenching relief to Mobitel customers, by allowing them access to a free chilled bottle of water via a simple SMS command.
The interactive touch screen at the Smart Bus Halt with its integrated facial analytics has the ability to customize onscreen content to suit the audience based on a multitude of characteristics such as age and gender. It also doubles as a self-service information portal with information on bus routes, train routes/time tables and localised details of ATMs etc. which will provide immense value to commuters.
In its quest to be at the forefront of technology Mobitel's Smart Bus Halt, in-line with its IoT (Internet of Things) initiative is equipped with state-of-the-art environment sensors which monitor a variety of factors such as temperature, humidity, noise level and toxic gas concentrations. The data gathered from these sensors will enable the monitoring of air quality on a routine basis which will be of value to society. Among the many facilities accessible to commuters, the Smart Bus Halt will also be equipped with a mobile phone charging station.
The Smart Bus Halt is the first step of a in a large scale deployment of similar ventures both in the Colombo City and across the island. In its vision to spearhead the ICT transformation of Sri Lanka, Mobitel together with the Ministry of Telecommunication and Digital Infrastructure has been at the forefront of innovation and it will continue to expand its technology footprint and serve the nation as the national mobile service provider.

Photo Captions are – 1) The first "Smart Bus Halt" by Mobitel at Town Hall, Colombo.
2) The opening of the first Mobitel "Smart Bus Halt" by the Minister of Telecommunications and Digital Infrastructure Hon. Harin Fernando, Sri Lanka Telecom and Mobitel Chairman Mr. P. G. Kumarasinghe Sirisena. Also present was Mobitel Chief Operating Officer Mr. Nalin Perera.
---------------------------
by (2017-03-26 00:44:05)
We are unable to continue LeN without your kind donation.
Leave a Reply