Only one case for 5 months since Dilrukshi was taken out..! FCID investigations hampered ; Malith the scoundrel seeking to rescue Navy criminals –Anura (video)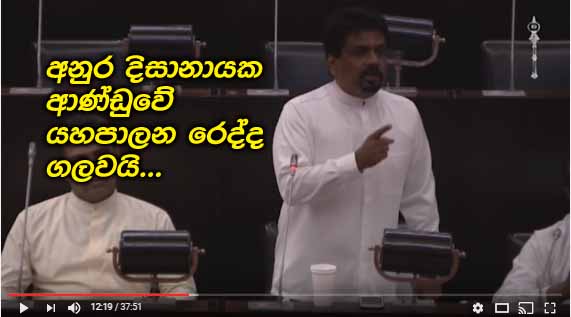 (Lanka-e-News -25.March.2017, 3.05 PM) Closely on the heels of the exposure of Lanka e news for the first time pertaining to the undue and unlawful pressures brought to bear on the IGP and the CID to rescue the white Van murderers and abductors by nonentity Empty Dumpty UPFA M.P. Malith Jayatileke , the opposition chief whip Anura Dissanayake M.P. related a most intriguing story recently in parliament which tore the good governance government 's hypocritical livery into shreds …

Dissanayake revealed with evidence , the good governance government which came to power after making solemn promises that stern action will be taken against the corrupt and the criminals is on the contrary , after chasing away the Director General (Dilrukshi) of the Commission inquiring into allegations of bribery and corruption, and transferring the FCID Director to Moneragala has crippled those Institutions . In addition Malith Jayatileke the national list M.P. by exerting pressures on the CID is seeking to save the criminals who ruthlessly murdered students after committing extortions .
After removing the former Director General of the Bribery Commission who filed action bravely against the powerful and the affluent of the country , only one case has been filed by the Commission for the last five months , Dissanayake bemoaned. He also disclosed no new complaints are being made to the FCID , and even the investigations into the 100 complaints or more at the FCID are being hampered , and many of those are being now withdrawn .
Dissanayake also went on to expose giving out numerous details in parliament in connection with the most despicable and detestable efforts made by Malith Jayatileke despite being an M.P. to rescue Navy murderers, and the murdered innocent students with the motive to collect extortion payments .
Full Video of Speech of Anura Dissanayake is hereunder
---------------------------
by (2017-03-25 10:06:35)
We are unable to continue LeN without your kind donation.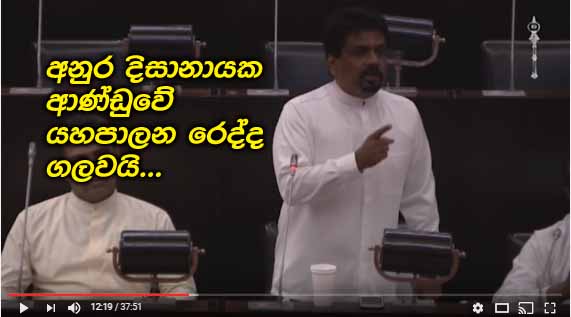 Leave a Reply