Nonentity Malith proves his insanity and imbecility beyond doubt by accusing Prof. Wijesuriya as Dheerasekera
-Prof. challenges : ' get the murderers you safeguard to kill me if you can prove'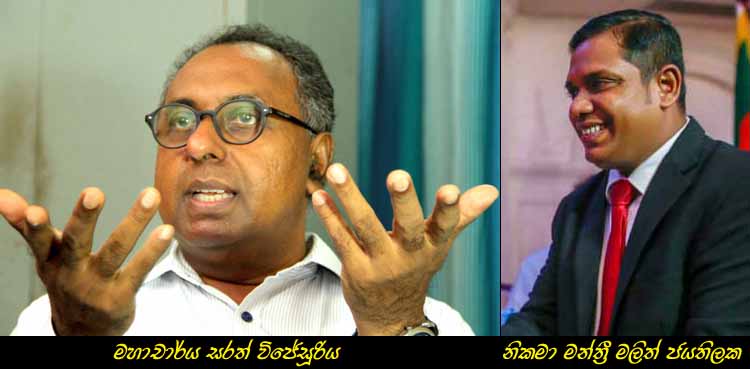 (Lanka-e-News -21.March.2017, 6.00AM) Following our news report captioned ' Maithri sends his National list lackey to save the Navy criminals who killed innocent students..! Why is Maithri at pains to wash away the blood stains for others' sake?' which was written by Wimal Dheeerasekera , Malith Jayatileke M.P who was criticized in it , after having read the report had wrongly assumed that the article was written by professor Sarath Wijesuriya . Malith the noted nonentity and imbecile had therefore berated and insulted the professor who has in turn sent a letter to Lanka e news in that connection . The full text of the letter is hereunder :
Malith Jayatileke M.P. spoke to me via mobile phone on march 18 th at about 7.45 a.m. The call was pertaining to the article written by Wimal Dheerasekera published by Lanka e news. In that article criticisms were leveled against Malith over his attempts to rescue his friend a Naval officer facing grave criminal charges.
There had been grave allegations mounted in connection with Malith 's action, though I have so far never written in that regard to any media. Yet Malith has assumed that it is I who had written in the name of Wimal Dheerasekera. This is a most foolish assumption , and a joke.

I have never written to any media under a pseudonym , and it is in my true name I have written my articles. I have leveled my criticisms against Mahinda Rajapakse , Gotabaya Rajapakse , the incumbent president and prime minister openly and directly .
Even the criticisms against the book of Malith Jayathileke titled 'January 8 th that I saw' were published in my own name . Hence I have no necessity at all to write about Malith under a pseudonym. Neither do I have any blind fears.
Indeed the foolish and faulty assumptions of Malith truly amused me and made me laugh. I sympathize with him for making wrong and stupid conclusions. Though I explained to him most respectably and rebutted his charges , he persisted in his false accusations against me , and terminated the phone conversation abruptly.

I began to wonder if these are the individuals who are so close to the president , what amount of damage they may be doing to the president owing to their unscientific illogical thinking and mental debilities. These drawbacks afflicting the president because of such individuals clustered around him need to be described at length.

In any event , I request the Lanka e news editor to clarify whether I am Wimal Dheerasekera or not.
If Malith Jayathileke M.P. can prove that I who am professor Sarath Wijesuriya is Wimal Dheerasekera , I am ready to resign from the post of professor , Sinhala division of the Colombo University as a self inflicted punishment . If that does not satisfy him , he can even enlist a murderer who the government exalts as 'war hero' and is providing protection , to kill me. I shall hand over my written consent to Malith to do that.
By Prof. Sarath Wijesuriya
Lanka e news editor's comments :
Firstly let us tender our apologies to the professor for the embarrassment and insults ,if any he had to face owing to a nincompoop and nitwit because of the article written by Wimal Dheerasekera .
Wimal Dheerasekera is not professor Sarath Wijesuriya by any means. Wimal Dheerasekera began writing articles for us somewhere in the middle of the year 2005 – the year Lanka e news was inaugurated . He wrote on inside information on politics and as a political critic.
Since that time , Prageeth Ekneliyagoda and Wimal Dheerasekera who wrote on politics were political critics of a distinct lofty caliber , and were therefore invited by Lanka e news editor to write on analytical politics . Because Ekneliyagoda wrote in his true name he was abducted and murdered , whereas Dheerasekera who wrote under a nom de plume is fortunately living. If we remember right, professor Wijesuriya commenced as a political critic during the final phase of the Rajapakse regime . Earlier the professor was a Sinhala literary critic only writing on Sri Lankan social shortcomings and setbacks.

It is our conviction , the professor who enjoyed successful literary and professional careers and owned a successful publication Co. was compelled to enter the stinking politics of SL during the last phase of Rajapakse regime because of the baneful politics and the deadly policies of the Rajapakse regime . In fact even comparing such an eminent selfless professor like Sarath Wijesuriya who came forward openly and dared to champion the cause of the masses without even hiding his name , with buffoons like Malith Jayathileke from garbage bins who are best only at tomfoolery , and obsessed with selfish and sordid aims is an insult to the professor.
We are addressing Malith Jayathileke as a non-entity not without valid reason : After securing a pinnadi (free) M.P. post through the national list only to waste precious public funds , he did nothing at all in the public interest ; neither did he make any worthy statement nor raise any important question in parliament . At least if he had a basic knowledge of genres and the styles of different writers, he would not have made the mistake of identifying Wimal Dheerasekera and professor Sarath Wijesuriya as one. Because they are absolutely different . It is a pity , it is such imbeciles without a sense of discrimination who are currently running errands for the president .
The articles of Wimal Dheerasekera are with us kept separately. Anyone who wants to make an analysis can read them individually and make a right decision. Malith who hasn't the horse sense to first read them and think before leaping into the well like a frog has only proved what an idiot he is .
Every beast with horns may not be a buffalo , but it is an indisputable fact every beast with horns gores even if it is two legged . Though Malith is a nonentity , since he has developed horns during the five years , it is best if professor Wijesuriya takes precaution because this two legged beast has started goring all and sundry .
In conclusion , though the main speeches of the professor were published at various times by us , the letter published today is his first sent by the professor himself.
---------------------------
by (2017-03-21 00:43:33)
We are unable to continue LeN without your kind donation.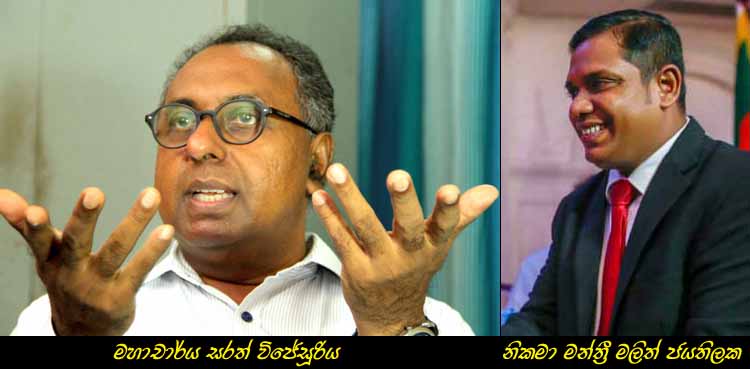 Leave a Reply