Truly incredible ! New filtration process that transforms impure Beira water into drinking water ! Costs only 50 cents A solution to kidney diseases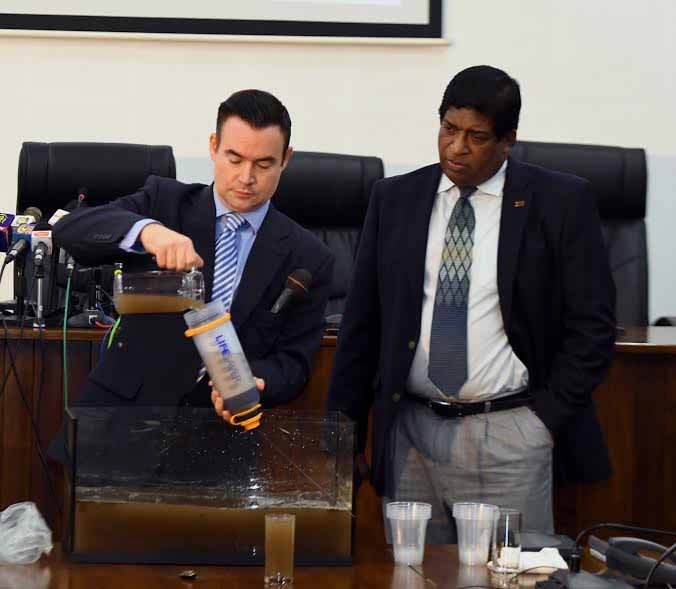 (Lanka-e-News -10.March.2017, 11.30PM) A water filtration process which can purify the impure water taken from the Beira lake into drinking water in two minutes was introduced by the minister of finance Ravi Karunanayake yesterday (09) . The greatest benefit people will derive from this filter is , the expenditure incurred by a family of four members using this filter for a day 's consumption of water is as low as 50 cents.
The Finance minister said, by providing this pure water to the people , a sum of about Rs. 124 billion that is spent annually on the state health service can be trimmed down. This immediate purified drinking water supply to the people will be a solution to many ailments including kidney diseases .
This revolutionary equipment providing pure drinking water supply at low cost is produced by Life Saver Co. of Britain . This novel water purification filter was introduced for the first time to Sri Lanka on the 9th at the Ministry of Finance . The officers of the foreign company demonstrated how the impure water obtained from the environs of the Beira Lake could be transformed into pure drinking water in two mins.
This new filter will also provide permanent answers to the environmental pollution caused by collection of empty drinking water bottles and indestructible wastes. Besides , kidney diseases and arsenic poisoning can be controlled.
Minister Ravi Karunanayake who was present at the event made the following comments .
'Actually we wanted to introduce this water purification filter as an answer to the drinking water issues faced by the people of Colombo. It is then we came to know about this Company. Based on the direction and guidance provided by the president Miathripala Sirisena and prime minister Ranil Wickremesinghe, eradication of the kidney disease has begun.
We have therefore decided to introduce this water filter across the entire country. For a family of four members , because of this filter, the expenditure incurred on usage of water for a day is only 50 cents . Owing to this the economy of the country is developing in two ways.
Firstly , the expenditure of the people on water usage is getting reduced .Secondly , the expenditure of Rs. 124 billion on the health service annually can be curtailed by curbing diseases ,' the minister pinpointed.
In Malaysia, Bangla Desh , Brazil, Lebanon and Columbia these water filters are most popular and successful .
Steuart Wilson , the zonal manager of Life Saver Co. and Darin Weerasinghe the local representative of that company also participated in this event.
---------------------------
by (2017-03-10 20:18:45)
We are unable to continue LeN without your kind donation.
Leave a Reply