CB monitoring board gearing itself to facilitate another scam only second to 'bond scam' in magnitude !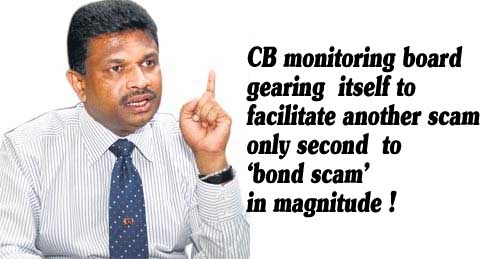 (Lanka-e-News 02.Feb.2017, 11.45PM) The Central bank of Ceylon monitoring board is getting ready to facilitate a multi billion scam alias 'Wegapitiya fraud' which is only second to the Central bank bond scam in magnitude , based on reports reaching Lanka e news inside information division.
The special monitoring board is scheduled to hold a meeting on the 3rd , concerning the business which W.H.K . Wegapitiya the notorious swindler of all times is eyeing – Wegapitiya is aiming at taking over ownership of Rs 15 billion (Rs. 15,000 million!) worth ETI (Edirisinghe Trust Investment) conglomerate without his spending a cent while taking refuge under announcements and pronouncements made by him that 'it is a task which concerns president Maithripala Sirisena.'
After Lanka e news always first with the news and best with the views exposed crooked Wegapitiya's crooked maneuvers and crafty machinations in this connection on 23 rd of February, it is learnt Wegapitiya who flew into a rage has run amok like a serpent soaked in kerosene , repeatedly saying ' it is something with which I have nothing to do ,rather it is president's'
Of course ETI is not what concerns Wegapitiya . It is the television channel under the ETI conglomerate he is eyeing and thereby to achieve his sole ambition to take the place of a businessman who is a 'King maker', sources close to him revealed.
Currently , there are several television channel magnates who are harboring the notion , through their television 'boxes' they can be 'King makers'. S Lon sewage pipe line 'Raja' , share market fraudster , and brother of the notorious murderer, engaged in money laundering (laundering his murderer brother's heroin transaction earnings ) are some such businessmen . Now , Gas Wegapitiya too has been struck by the same evil contagion.
Wegapitiya the racketeer who is 'selling' the name and honor of the president while making grandiose preparations to indulge in the fraud that is only second to the Central bank bond scam has a putrid antecedence which delved into places him in the worst possible light .Hereunder is another similar example taken from Wegapitiya's personal historical records..
Wegapitiya's cursed activities and atrocities after taking over the post of president of the Sri Lankan young businessmen's association as name as Chamber of Young Lankan Entrepreneurs, known by the name "COYLE " are well known. He became its president after sending out his predecessor Daya Gamage citing the grounds that the latter was associated with politics , and COYLE association ought to be non partisan.
It is to be noted ,Daya Gamage was engaged in politics but he did not drag his politics into the COYLE Association. Members of COYLE Association realized this only after Wegapitiya succeeded Gamage and began indulging in all the sordid activities including doing all the villainous biddings of Gotabaya to drive that organization to rack and ruin.
The tremendous prospects the entity had of becoming a most revered international organization came crashing down after selfish self seeking unscrupulous scoundrel Wegapitiya became its president.
This foregoing example is highlighted to remind the members of the 'monitoring board' of Central bank of the evil moves and maneuvers of Wegapitiya , and on which side he was during the presidential elections when Maithripala Sirisena , the presidential candidate was to be sent six feet underground .Hence it is best if Central bank understands the true aim and objective in Wegapitiya's 'selling story' designed to secure his self centered goal, by judging it vis a vis his past dastardly moves and manipulations after securing it.

Connected report …
Wegapitiya sells President's name in his latest Rs. 15 billion ETI mega crooked deal..! Seeks to acquire a business without spending a cent..!!
---------------------------
by (2017-03-02 23:01:34)
We are unable to continue LeN without your kind donation.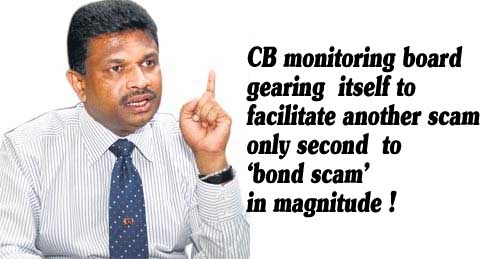 Leave a Reply