British Sri Lankan Muslims celebrates 69th Indipendence Anniversary in Harrow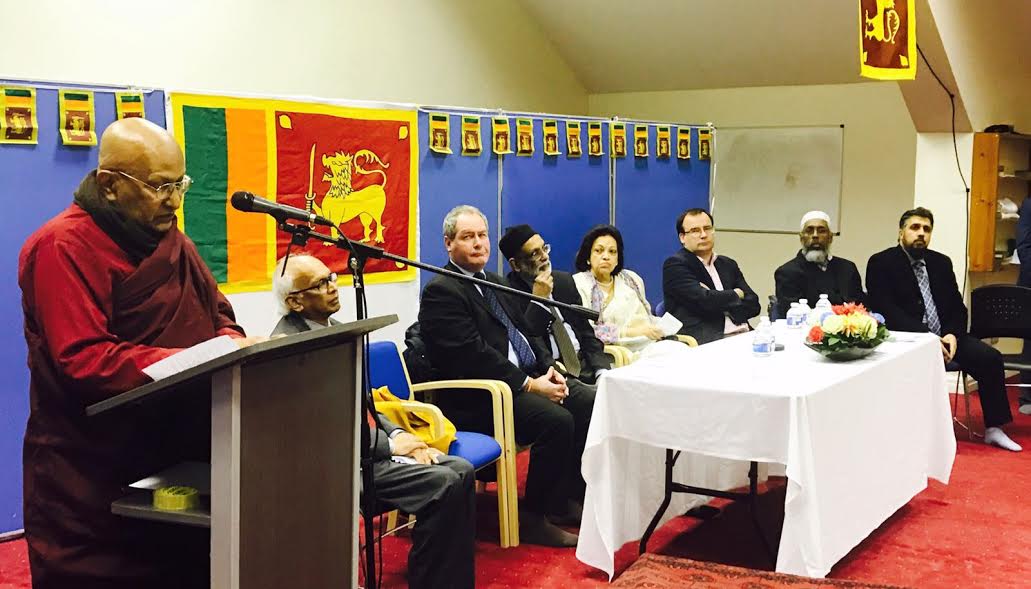 (Lanka-e-News - 08.Feb.2017, 6.45PM) Council of Sri Lankan Muslim Organizations (COSMOS-UK) , organized a special meeting and a prayer gathering in SLMCC Harrow, on Sunday 5th February from 5:30-8 pm , to mark the 69th Anniversary of Sri Lankan Independence, with a significant gathering in attendance. They organized a similar event in 2016 too. Many distinguished guests graced this occasion, including HE Amari Wijeyawardena, the High Commissioner for Sri Lanka in UK, His Worshipful Councillor Rekha Shah, the Mayor of Harrow , Ven. Dr Handupelpola Mahinda Thero , the Chief Incumbent of the Kingsbury Temple, Imam Anas Mohamed of Harrow mosque, Hon. Bob Blackman MP for Harrow East, Hon. Gareth Thomas MP for Harrow West, Dr Omer El-Hamdoon Deputy Secretary General of MCB, Dr Kamal Gammampila and all other faith leaders. Many high officials of the SL High Commission were also present.
The proceedings commenced with the recitation from the Holy Quran by Hafiz Rizwan Mukthar. Decked with Sri Lankan flags , the venue looked glamorous for this special occasion, while the British born children without any knowledge of Singhala language with audience rose up to sing the National Anthem at the start, This was the wonderful part of the event. COSMOS Chair Mr Azahim Mohamed welcomed the special invitees and all those who came to honour this event of much importance to the Sri Lankan Diaspora belonging to all nationalities –Sinhala, Tamil and Muslims, with special mention about the significance of this event. He touched upon the pivotal contributions made by the early Muslim leaders who went beyond their community interests to ensure that Ceylon becomes independent before sorting out their community related issues. Junaideen Mubarak ,Chair of SLMCC too spoke at the outset explaining the role played by SLMCC to host events of this nature.
HE Amari Wijeyawardana who spoke at this event , commended the efforts made by COSMOS to commemorate this national event which relates to their motherland and also referred to the pivotal role played by the Muslim leaders of that time supporting the independence Motion, when the British insisted that three fourth of the population should be there to gain Independence .She also passed the message delivered by H E Maithripala Sirisena, President of Sri Lanka to all Sri Lankans.
Ven. Dr Handupelpola Mahinda from the Kingsbury Temple too made a short speech congratulating the organisers for arranging this colourful national event. Also this time all four major faith leaders delivered their religious prayers at the event.
Dr Kamal Gammampila, Guest Speaker, who is a retired Bio Medical Scientist , made a special guest speech on 'Support and Contribution by early Sri Lankan Muslim leaders to The Independence and Sri Lanka Muslim contribution in general since then'. He recalled his family attachment to Muslim families and also touched upon contribution made by many Muslim academies, professionals and politicians.
Hon. Bob Blackman MP for Harrow East, who was involved closely with Sri Lankan communities in UK, gave an enlightening speech touching upon his experiences in Harrow in building inter communal amity . Bob Blackman, MP for Harrow East particularly said that the first duty of any government is to protect its borders and the second duty is to protect the minorities living within them and it was heartening to see Sri Lanka developing into a nation respecting its' international obligations in human rights. Both Harrow MPS (East and West) in attendance spoke of the need for integration in pluralistic societies like Sri Lanka and UK and spoke highly of the role played by SLMCC.
Asheikh Anas Mohamed of the Harrow Mosque led the audience in prayer for peace and progress of Sri Lanka, while Mr Liyas Abdul Wahid ,General Secretary of COSMOS proposed the vote of thanks . The event culminated with refreshments and in the view of the audience , the evening was well spent and useful.
by: Liyas Abdul Wahid
​​General Secretary-COSMOS UK
---------------------------
by (2017-02-08 13:38:32)
We are unable to continue LeN without your kind donation.
Leave a Reply