Then it was 'If Karu comes – sun will shine '; now 'when Karu has come it is the rising sun' ! !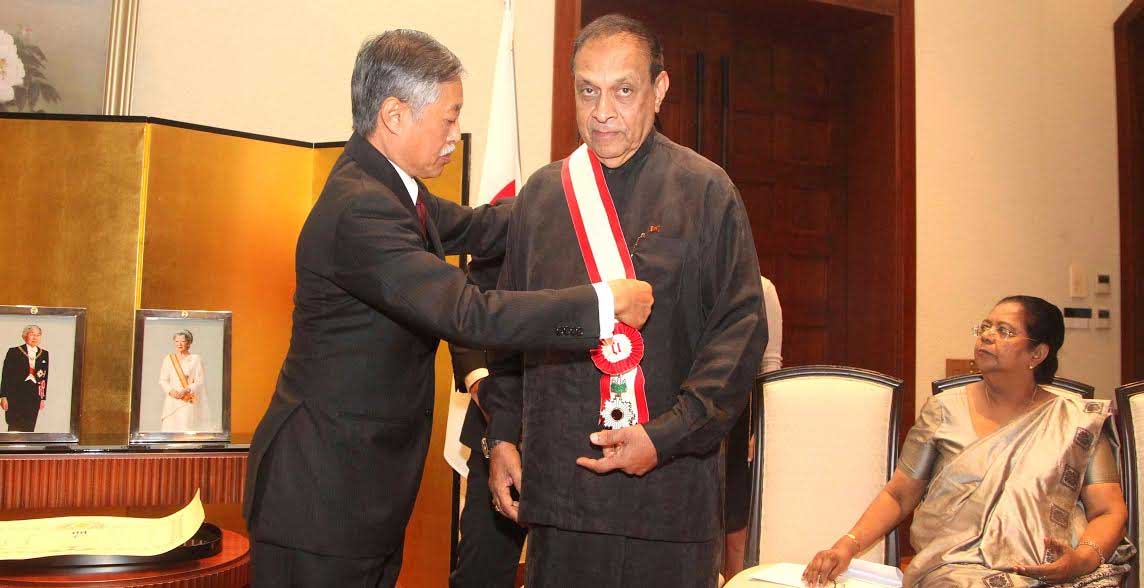 (Lanka-e-News 02.Feb.2017, 7.10PM) Karu Jayasuriya came into politics on the popular theme ' as Karu comes so the sun will shine '. As though it was predestined , day before yesterday (31 st January ) he received Japan's special most coveted award 'rising sun'.
This special ceremony was held at the Japanese Embassy on the 31 st , and Japanese Ambassador Kenitchi Suganuma gave away the world acclaimed prestigious award to Deshamanya Karu Jaysuriya , the speaker of Sri Lanka Parliament.

The awards ceremony was earlier organized to be held at the Palace of the Japanese Emperor Akihito and the latter himself was to give away the award with his own hands on the 8 th of November 2016 , but owing to the sad sudden demise of Karu Jayasuriya's young daughter, Karu Jayasuriya could not attend the event . Hence ,at a special ceremony held yesterday at the Japanese Embassy the supreme honor was conferred on him.

The 'rising sun' award is the highest honor bestowed on an individual by the Japanese emperor , and this was the first time this award was won by a Sri Lankan. This award which was launched in 1875 during the Meiji imperialism has continued uninterrupted as the highest award granted by Japan to an individual
---------------------------
by (2017-02-02 13:44:57)
We are unable to continue LeN without your kind donation.
Leave a Reply