Dr. Naveen Zoysa (notorious hoodlum) tried to attack me ; Threatened me with death thrice – Ravi Kumudesh complains officially (video)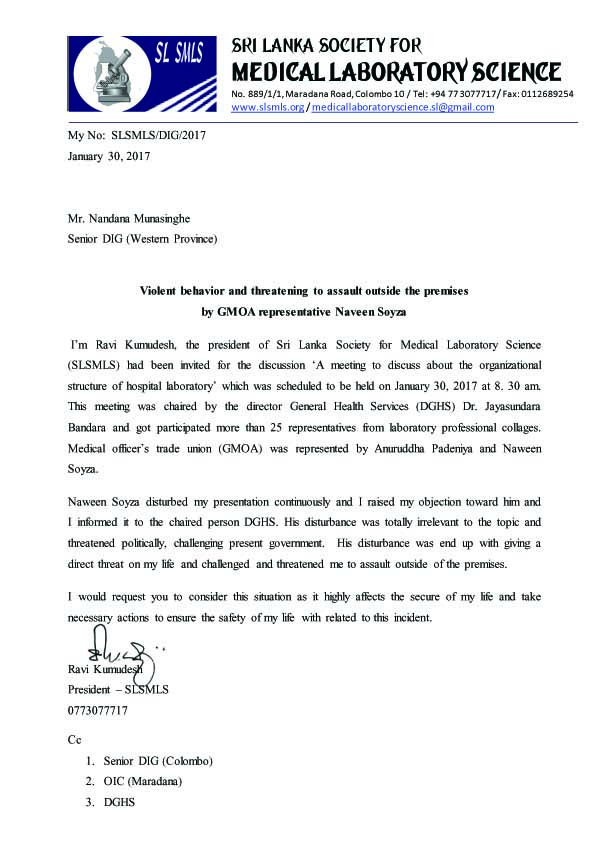 (Lanka-e-News - 31.Jan.2017, 5.40PM) GMOA secretary Naveen Zoysa the infamous doctor best known for having a face that is attractive enough only for a good pummeling has this time tried to assault the president of the Sri Lanka (SL) laboratories science association , Ravi Kumudesh , and threatened him thrice with death while screaming ' I shall look after you outside'. Kumudesh has complained about this in writing to DIG , Colombo , the OIC of Maradana police and Director General Dr. Jayasundara Bandara of the health ministry . The latter had also been present during the entire period when Dr. Naveen Soysa the criminal face was behaving violently.

Yesterday(30) morning a discussion of a series in connection with the medical laboratories management was held , and was chaired by Jayasundara Bandara .It was not a trade union discussion but that of professionals. During the discussion when Ravi Kumudesh was speaking, GMOA secretary the infamous Naveen Soysa who was also a participant started hindering and hampering the speech of Kumudesh unendingly.

When Naveen yelled out of point ' don't speak on the basis of Ranil's strength ' , Kumudesh who was interrupted replied ' instead of leaping like a frog into the middle , please allow me to make my speech'
When Naveen the hoodlum doctor of the slum and a disgrace to the medical profession sprang forward to attack Kumudesh, fortunately those around had intervened and warded off the attack. Naveen the hoodlum had then left the venue in a huff while screaming ' I shall look after you outside' at Kumudesh in his typical rowdy style. Kumudesh who had no alternative had lodged complaints officially.
Ravi Kumudesh revealed later the details of the unsavory incident in which he was nearly attacked- vide video footage hereunder…

Copy of his police complaint is also appended
---------------------------
by (2017-01-31 12:19:38)
We are unable to continue LeN without your kind donation.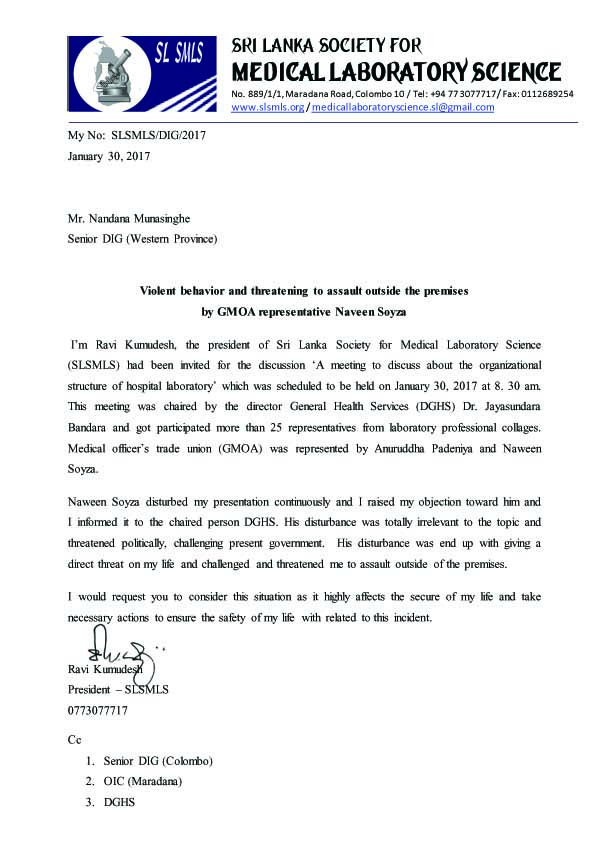 Leave a Reply