If what you are aiming is to dupe us, we shall seek international intervention –Professional journalists warn president (photos) Post card campaign kick starts !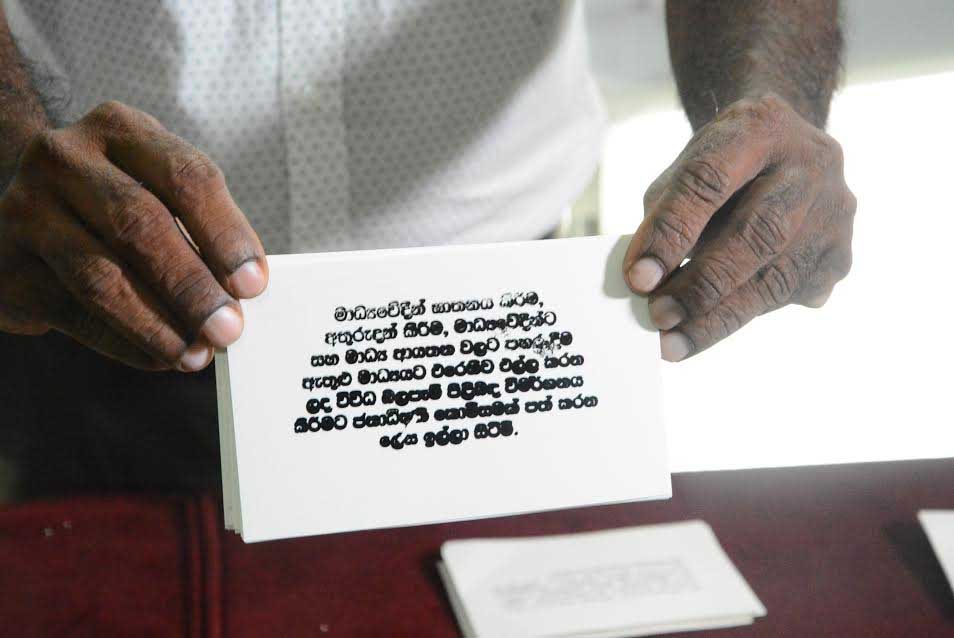 (Lanka-e-news -26.Jan.2017, 10.50AM) If the president is seeking to dupe the media and society without justice being meted out to the journalists who were murdered and went missing , the only option available in that event is to seek international intervention to secure redress, said , news editor of Ravaya Lasantha Ruhunage the president of the Sri Lanka professional journalists Association .
Ruhunage expressed this view because , the good governance government which is talking most loud all the time on behalf of media freedom has still not appointed a presidential commission empowered to investigate the murder of journalists; assault on journalists; setting fire to media Institutions; and the threats and intimidations faced by journalists during the nefarious decade of the Rajapakses even after two years since the advent of this government. The good government governance has not even responded to the request made by the Association for the last two years. Hence , a post card campaign was inaugurated on 24th- to send post cards bearing signatures of the public to the president to bring pressure on the government to appoint the presidential commission.
It is well and widely known fact that the organization worked with commitment to steer Maithripala Sirisena to the post of president , yet so far the president has not been able to even give an appointment to hold discussions , Ruhunage bemoaned while mounting charges.

A large crowd including Journalists Islandwide , civil organization leaders , Ms. Sandya Ekneliyagoda , Risa Wickremetunge, a daughter of a relative of Late Lasantha Wickremetunge , political leaders and artistes participated in the post card campaign launched 24th .
You (our readers) can also contribute to this post card campaign. That is ,write the statement appearing hereunder on the post card , place your signature thereon and send it to His Excellency President Maithripala Sirisena , President House ,Colombo 01

" It is hereby requested to appoint a presidential commission to investigate the murder of journalists , abduction of journalists, assaults on journalists, and the various threats and intimidations posed to the media"
Photos – courtesy Vimukthi Soysa.
---------------------------
by (2017-01-26 05:23:30)
We are unable to continue LeN without your kind donation.
Leave a Reply