24 th January is day of reckoning for good governance govt. Get ready to open its eyes !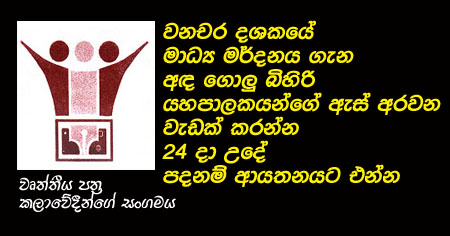 (Lanka-e-News -21.Jan.2017, 11.30PM) The good governance government which is crowing from rooftops about media freedom , even after two years have lapsed since its advent , has not been able appoint a duly empowered President's commission requested by the working journalist association to investigate among other things the killing of journalists , attacks on journalists, threats to journalists and setting fire to media Institutions which were committed during the nefarious decade of the murderous Rajapakses.
When the government was elected , written undertakings were asked in this connection from the president and the prime minister to which there were no response. Owing to this indifference , a petition supported with signatures of the public was organized on 2016-01-26 in front of the Railway station , Fort. This signature campaign petition was again forwarded to the president for his attention and action .
Though so far there has been no response from the president in spite of his much hyped media freedom , his blabbering and bluffing publicly about stifling and throttling the news websites is of course going on unhindered.

The lukewarm attitude and indifference shown towards this urgent request , has prompted the association of working journalists (SLWJA) to organize a campaign of sending post cards to the president on 24 th of January .
The association has therefore urged all to come to the Sri Lanka Foundation Institute, Colombo 07 on 24 th January at 11.00 a.m. to participate in this campaign and place their signatures on the post cards expressing their support to the media freedom and protection of journalists .
---------------------------
by (2017-01-21 21:28:57)
We are unable to continue LeN without your kind donation.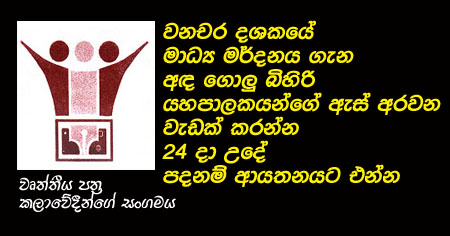 Leave a Reply