Venal Visakha Principal who collected massive bribes performs Thovil dance in school to avert the recoil !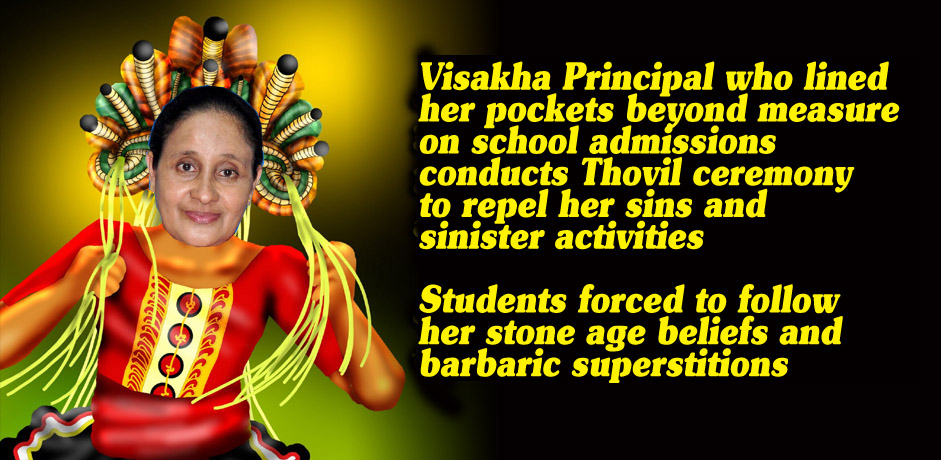 (Lanka-e-News -13.Jan.2017, 11.45PM) While schools in other countries in the world are moving ahead from non scientific to scientific systems , it is a pity we have to reveal an unbearable and sorrowful report of a most savage and barbaric attempt made in a school in our own country where retrograde steps are being taken to move from scientific to non scientific system to the detriment of the school and children whose minds are thereby being warped, based on reports reaching Lanka e news .
Unbelievably the name of this school is Visakha Vidyalaya located right in the middle of Colombo whose prinicipal is Sandamalie Aviruppola , the notorious 'Colonel' ( during the most corrupt and villainous Rajapkase regime, principals were given 'Colonel' titles)
She has made arrangements to conduct a Thovil dance in the school tomorrow (14) ! Of course , this is no issue if such a dance is being conducted to impart the ancient cultural practices to the school children, but this is not the aim of this 'Thovil principal' . On the contrary this Thovil is being conducted flagrantly violating the rules and regulations of the education ministry , and to instill wrong savage beliefs in children who are blind followers.
Based on the uncivilized blind belief ,through these Thovil dances and such barbaric activities , the stupid principal is trying to create the blind notion that peace can be established. Not only the modern world which has advanced through science , even Lord Buddha 2500 years ago resented and opposed such blind superstitions . This is something which insults true Buddhists and are frowned upon by them . By the way Visakha is considered as a Buddhist Balika school .

This prinicipal is so demented that for three days prior to this Thovil dance the students were ordered not to bring their morning and noon meals from their homes . They were also told not to bring meals with fish , meat or eggs into the school because of her prospective Thovil dance. In order to ensure this a group was deployed to do a thorough checking. What's more ? she had instructed the children not to eat fish ,meat or eggs in their homes too. The school canteen was also totally barred from selling any meals with eggs , fish or meat for three days in view of this Aviruppola Thovil chanting , dancing and prancing ! The whole school was turned full vegetarian for three days because of Aviruppola and her Thovil dance.
Now let us reveal the true succulent story behind the mundane Thovil story of Sandamali Aviruppola , (the ' Colonel' of the Rajapakses who are by now a byword for corruption and crimes) the great vegetarian.
Obviously, Sandamali is seeking to perform this barbaric Thovila and achieve so called 'shanthi karma'(peace) not for the benefit of the school or its children, rather it is based on her own superstition that the unpardonable sins she committed on account of the massive bribes she collected during the New year admissions when the school re opened ,would recoil on her. Therefore she invented this idea to protect herself by this Thovila , knowing fully well such individuals like her who resorted to sordid activities have even been struck by lightning.
---------------------------
by (2017-01-13 23:37:53)
We are unable to continue LeN without your kind donation.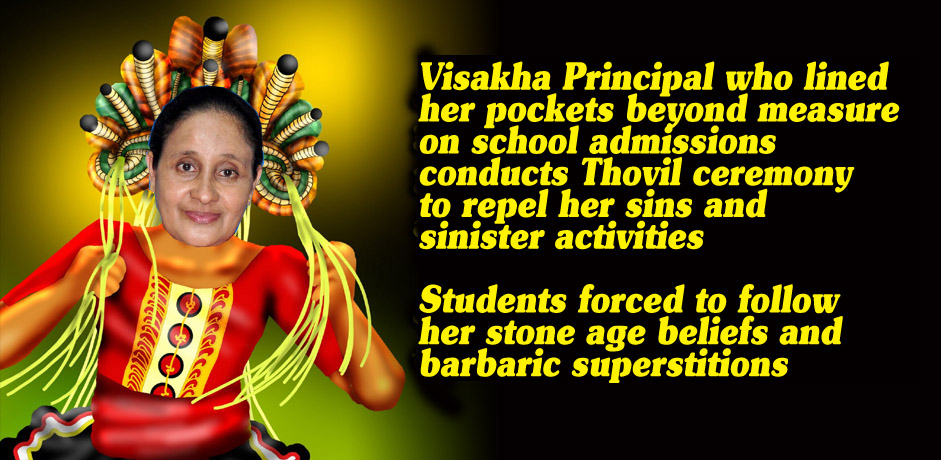 Leave a Reply