Guinness world record cheating 'X'mas condom' of mendacious Arjuna earns him the title 'world's record breaking liar' !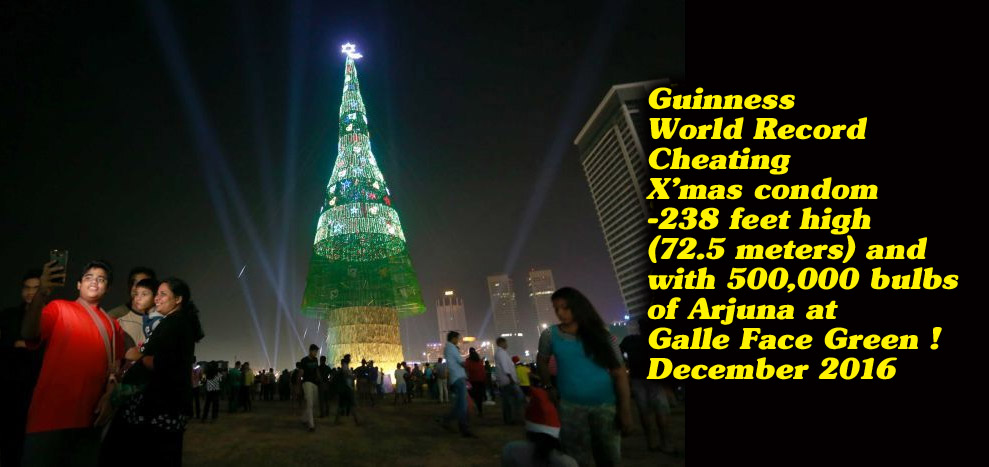 (Lanka-e-News -26.Dec.2016, 11.30PM) Minister of Ports Arjuna Ranatunge who boasted that he is erecting the tallest artificial Christmas tree in the world and bragged he is going to enter the Guinness book of world records, finally got his name entered in the Guinness book of records as the biggest X'mas liar in the world ! Arjuna who always tries to get into shoes which are too big for him and has no sense of his own proportions has proved that he is nothing but a laughing stock of the masses by trying to do things which he cannot do and undoing even the good things when discharging his tasks as a minister.
Arjruna at the beginning said , as he does not want to play second fiddle to anyone he is going to erect the tallest X'mas tree in the world, and be the first to have done that.

After all the empty boasts and brags of this hollow and shallow braggart , the much hyped X'mas tree was inaugurated on 24 th night , and his media secretary on the 25 th (noon) revealed the statistics of the tree by a communiqué.
The minister who has by now acquired a name as the biggest liar , in his communiqué stated this X' mas tree is the largest artificial X'mas tree in the world after boasting he has erected the tallest X'mas tree in the world. How does it become the largest ? and based on what grounds has not been explained however. In any case since the height of the tree and the number of bulbs used are mentioned , it may be assumed it is Arjuna's largest in his puerile fantasy world .
The communiqué states …..
"The world's previous largest X'mas tree had a height of 182.4 feet . That tree was made by GZ ThinkBig Culture Communication Co.Ltd on 25 th December 2015 in Guenshui , China. A year later in commemoration of X' mas, an usherer of peace X'mas tree with a height of 238 feet (72.5 meters) adorned with 500,000 bulbs and over 1 million Pine spheres was to be erected at the Galle Face Green . International award winner and popular film Director Inoka Sathyangani supervised the X'mas tree construction ."
'X'mas condom' not a X'mas tree !
First and foremost it must be said , it is not a X'mas tree that was erected . It was rather a X'mas condemned condom , and as is always the case with Arjuna's erections this time too it was a failure . Truly if it was a X'mas tree , it would have had a conical shape characteristic of a genuine Christmas exhibit. Arjuna's X' mas tree on the other hand was sadly lacking that attraction because it looked more a blunt condom with which he is more familiar than the bright X'mas tree ( compare with the photographs herein of X'mas trees of the world!)
In the past the Sri Lankans did not have the sophisticated equipments ,yet irrespective of the size of the structure , when it is said to be a dome they were able to construct it in the shape of a water bubble unerringly. If it was to have the shape of a hay heap they could construct that too no matter its size. This can be confirmed when witnessing the ancient 'stupas' that were constructed.
The world still marvels at those creations. Yet poor Arjuna could not construct a proper artificial X'mas tree even in this modern times with all the latest equipments which are freely available.
No wonder Arjuna who is best known for his worst miserable failure when it comes to erections has constructed not the tallest X'mas tree in the world but a condemned 'Christmas condom'. The whole world must be thinking that Sri Lankan Christians cannot even erect a X'mas tree when a minister himself of the SL parliament has proved his is a condemned ' X' mas condom' by trying to construct his much hyped tallest X'mas tree . Arjuna by trying to do what he is incapable of has disgraced the country ,let alone himself. Ultimately , it is the Christians in SL who have to face this most shameful fiasco, and not Arjuna.
The next blunder committed by this buffoon whose favorite pastime is tomfoolery , is relating countless lies in his communiqué
The statement that the tallest X'mas tree in the world built in China in 2015 is 182 feet is an absolute lie. That was to show Arjuna's X'mas tree (rather X'mas condom) of 238 feet (72.5 meters) is tallest.
Mexico report on tallest X'mas tree…
The tallest artificial X'mas tree was exhibited at the Chapiultepech playground from 2009-12-05 to 2010-01-09 in the Mexico city according to the World record academy .The height of that tree was 295 feet (90 meters) and its base was 114 feet. (Herein is a photograph circulated by Reuter ) . Therefore the story about China related by mendacious Arjuna in this connection is an absolute falsehood.
Report from Brazil of the tallest X 'mas tree in the world …
There is also another world record of the tallest floating X'mas tree. That was exhibited in 2007 at the Rodrigo De Fetras lagoon in Rio De Janeiro, Brazil .That X'mas tree was 278 feet ten inches tall (85 meters). (photo herein)
Hence , if Arjuna's X' mas tree (X'mas condom) was going to be 238 feet tall and the tallest in the world , it had been proved he is wrong , because taller X'mas trees in the world had already been constructed on land as well as on water. Arjuna who is always in a world of puerile fantasy and falsehoods has no knowledge of basic world records .!
Most number of bulbs used –report from Australia ….
In case Arjuna the so called world record breaker (world record cheater !) claims his X'mas tree has the most number of bulbs – that too is another lie. The World record academy has already recognized the highest number of bulbs in the world was used on a 'X'mas tree erected by David Richard in Australia in November 2015 .The number of bulbs used was 518,838 !, The star at the apex tree alone was adorned with 12000 bulbs ! (herein is a photograph of that)
Arjuna's official communiqué indicates his tree (X'mas condom ) has 500,000 bulbs . Hence even when considering the number of bulbs used, it is clear Arjuna's condemned condom is not even having the highest number of bulbs to beat the world record. In the circumstances Arjuna the accomplished liar has duped the people ,specially the Christians by lying most deliberately and profusely
Message of peace – another lie !
Another lie of Arjuna is his claim that by this exercise he was seeking to disseminate the message of peace among the people. If that was so that message ought to be there on the flags used . Instead it was the name 'Arjuna Ranatunge' in large letters in Sinhala and English that had been printed (photos depict) on those . In other words ,Arjuna misusing the public donations is through his 'X' mas condom' condemned gimmick propagating his selfish self serving message only - trying to boost his own image, while also trying to erect whatever is limp and drooping in him.
Judges of Guinness book of records don't even know….
If anything is done to enter the Guinness book of records that must be done with the monitoring of the judges of the Guinness records . Only such records are recognized by them .
When LeN inquired from the Guinness records committee in this regard , their reply was ,there was no such monitoring pertaining to Arjuna's 'X'mas tree (X'mas condom) erection. Neither was any such request made. Therefore it is crystal clear Arjuna has from the beginning aimed at duping the people and killing the true spirit of Christmas of the Christians.
Arjuna by the communiqué
…. " International award winner and popular film director Inoka Sathyangani who monitored the X'mas tree " had deceived the people.
We deem it most apt at this juncture, if we make known to the public the putrid antecedence of Inoka whose certificate neither the world record judges nor anybody in the world would accept .She is such a cheap publicity seeker that when her cow that was kept tied in her garden was stolen , instead of reporting that to the police she convened a media briefing to report that ,in order to earn cheap publicity . So this is the infamously famous Inoka of Arjuna ,who is well known for creating such 'buffalo' records who supposedly monitored Arjuna's condemned 'Christmas condom'. If those who gave her the name "Sathyangani' are living they would be now asking a thousand pardon for committing that sin.
Certainly , Arjuna after the publication of this report is going to scream , mud is being slung at him. In any event Arjuna is bound to reveal to the people the truth regarding the exposures of ours about his profuse lying, because of the announcement made by his deputy minister Mutthetigama on the day Ajuna's 'Chirtsmas condom' was unveiled.

He said, Arjuna who won the cricket world trophy for SL in 1996 , and created a world record has today , by constructing the tallest artificial X' mas tree of the world has earned great fame for the country , when in fact Arjuna by endlessly lying had only tarnished the image of the country before the world.

By the profusion of lies uttered by Arjuna day in and day out he had proved he is not ' Reggie's son ,' rather he is 'Mancho-son' . If only Arjuna instead of stepping into shoes which are to big for him , had humbly said he is going to construct a X'mas tree on the model of the tallest tree in the world , he would not have met this Waterloo. Usually an arrogant individual is taken that high so his fall will be that hard. When arrogance rides on ignorance , the disaster that individual courts can devastate not only himself but everything and everyone around.

( We hereby grant permission to anyone to publish any photograph appearing herein.)
---------------------------
by (2016-12-27 00:58:14)
We are unable to continue LeN without your kind donation.
Leave a Reply