"I gave the 'works' to him" : Wijedasa's lie "when I told president, he thanked me" enrages president
-Storm of political outrage over warrant issued on LeN editor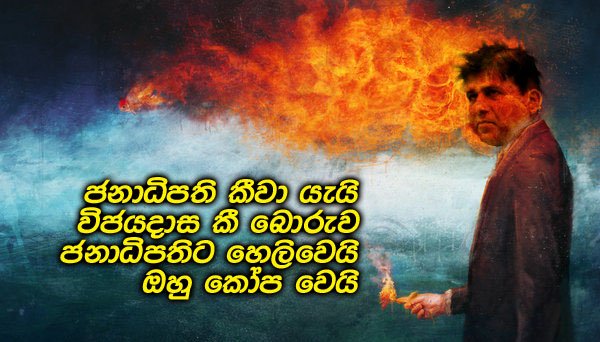 (Lanka-e-News -02.Nov.2016, 10.00PM) Subsequent to the Interpol warrant issued on Lanka e news editor, an announcement made by minister of justice Wijedasa Rajapakse betraying the president had infuriated the latter after his becoming aware of it , based on reports reaching Lanka e news.
After Wijedasa made an announcement in parliament on the 19th that Lanka e news editor is a Pulanna (destitute person), he should be got down on an Interpol warrant and a case shall be filed , Wijedasa's bosom pal most infamously famous Hemantha Warnakulasuriya (buddies of a feather who rob together) the lawyer , and Magistrate Kaveendra Nanayakkara got together , and issued an illegal warrant on the 26 th making good Wijedasa's threat .
"I gave the 'works' to him , and president too thanked me."
At about the same time Wijedasa has phoned the co ordinating secretary Thusitha Halloluwa of the foreign ministry in Sri Lanka (SL) , who is a close friend of Lanka e news , and said , " anna , I have given the 'works' to that fellow . I shall send that fellow to ten years in jail. The president spoke to me and thanked me." Wijedasa had made the same statement a moment earlier to another website editor Ruwan Ferdinands via phone. Wijedasa has also gleefully told ' not a dog will come forward to save that devil'

Nevertheless , since the co ordinating secretary of the president , lawyer Shiral Lakthileke at the same time had made a statement and declared ,at this juncture he is with the LeN editor, suspicions were aroused regarding the statement ' the president thanked me' of Wijedasa. Unbelievably , lawyer Shiral Lakthileke who came in for heavy flak from LeN , and Ruwan Ferdinands too who faced severe criticism at the hands of LeN earlier on , like true gentlemen stood by LeN editor.

Free media movement , the main media associations including The Web media association and the Young journalists association , as well as the Movement for just society stood by LeN and appeared on its behalf. Ranjan Ramanayake , Harin Fernando , Ajith P. Perera and Dr. Harsha de Silva too openly made statements extending unstinted support to Lanka e news. Even minister Dayasiri Jayasekera who came in for our scathing criticisms in the past for pole vaulting from one camp to the other , phoned Lanka e news editor and assured his wholehearted support .
In addition , a great majority of pro good governance supporters who are users of the social media also extending their unreserved support to Lanka e news is something most pleasantly shocking and overwhelming . Many of them contributed wholeheartedly to the victory of the rainbow revolution of 8 th January 2015 even risking their precious lives.
There was also a large number of representatives of the UNP second row who are not parliamentarians who expressed their support in no uncertain terms. Local and foreign lawyers too asserted , they are ready to appear on our behalf free of charge. Another group said they are ready to defray the legal expenses involved . Some friends of Lanka e news who are abroad even vowed that if LeN editor is to be fetched to Sri Lanka they too would come to SL to fight for the release of the editor.
Cabinet meeting : Harin for LeN, Nimal Siripala and Arjuna against
Thereafter at the cabinet meeting of the 29 th (Tuesday) with the participation of the president ,minister Harin Fernando took up the conspiracy against LeN editor and drew the attention of the president to it. He pointed out the conduct of his own government's minister against the editor of LeN that made an invaluable contribution to install the government of good governance in power is something he himself is feeling ashamed of , while adding the government can be struck by a curse on this account.
It were SLFP's minister Nimal Siripala De Silva , and minister Arjuna Ranatunge ( against whom LeN earlier on made revelations pertaining to monumental corruption ) who opposed Harin and LeN. Arjuna who is best known for uttering worst lies alleged , LeN which requested cash from him began castigating when he refused to comply. He went on to say , therefore the indignation of the SLFP ministers can be understood , though he is speaking as a UNP minister. Harin Fernando then retorted , no matter what baila you sing here , as soon as you go out, you will realize the people are with LeN . The entire social media is aligned with LeN , Harin pinpointed while drawing the attention of the president to this issue.
LeN 's criticisms are fierce but that is their style , Harin observed
Harin went on to recall the statement made by Deputy minister Ranjan Ramanayake on the previous day in parliament , and that he fully endorses what he stated. The president who was listening to everything intently , said a committee shall be appointed to probe into this with the representation of all ministers. It is worthy of note Wijedasa Rajapakse the mischief maker nad rabble rouser who was the sole and whole cause of all these unwarranted and unwanted issues , as well as responsible for waste of everybody's time , was a conspicuous absentee at this meeting.
President who realized Wijedasa has lied to him flies into a rage
On the following morning (30) , the president had called Thusitha Haloluwa , a friend of LeN , and inquired about it .Haloluwa had revealed the true story , that on the day the warrant was issued , Wijedasa spoke to him and others , and informed that the president gave him a call and thanked him for that.
President who heard this had flown into a rage. The president who insisted that he never told such a thing had exclaimed , 'I am waiting to catch the justice minister'
According to reports reaching Lanka e news , Wijedasa has flown to Japan. Haloluwa has then opened the mind of the president by explaining to him lucidly , the government should take careful note ,after the international warrant was issued, how all the forces of the rainbow revolution of 8 th January , buried all their differences and hostilities to rally together to back the LeN. The president who listened had agreed with Haloluwa.
P.M. calls for a report from A.G.
Meanwhile the speaker too was startled over the issue of the warrant against LeN editor. The speaker had phoned two M.P.s who had earned a tremendous reputation in parliament , and requested them to meet the P.M. and discuss this issue. The two MP s had met with the P.M. The latter had informed to get an unerring report of the legal position from the AG in regard to this.

Meanwhile the two petitions filed by LeN and the Young Journalists Asociation with the JSC were to be examined Monday (05).
Answer to the accusations of Arjuna
Before concluding this report , it is LeN's view that an answer shall be furnished to the accusation of minister Arjuna Ranatunge leveled against LeN that it attacked him because he refused to give cash in compliance with LeN 's request.
Lanka news editor has never spoken to Arjuna during his life time except once. Prior to the last elections in August 2015 , Arjuna through a telephone of a close friend of LeN spoke with the editor and requested him to come for a treaty with Arjuna. That was the only occasion .
On that occasion , the discussion was regarding the Rajapakses being nominated through the UPFA list , and nothing personal. Hence we kindly ask Arjuna who is making false and malicious statements before the cabinet, to prove them . Instead of making false and wild accusations it will be best if he spends that time on trying to prove the accusations mounted by Lanka e news on him are false, if he can.
At 30th cabinet meeting held to announce the cabinet decisions , the statements made by minister Rajitha Senarathne regarding LeN were not incorrect. He said , he was humiliated by the LeN. We are aware of that. We had questioned ,is it because everybody is equal before the law , that minister Rajitha kept away and did not respond when he was summoned to the Commission inquiring into Bribery and Corruption on 7 - 8 times to file answers to the charges against him ?
Before minister Rajitha complaining he was humiliated , what he ought to do is furnish answers to the charges mounted against him , and prove them as false. Charges leveled against a people's representative being dismissed as vilification is to dupe the people.
The allegations mounted against minister Rajitha by us are charges currently filed against him by the Commission inquiring into bribery and corruption
Before maligning and penalizing the LeN , it will be best in the best interests of the country , the people and good governance, if the accusations leveled against the individuals by us are proved as false . If that is done , we are prepared to face any punishment meted out to us.
By Wimal Dheerasekera
Translated by Jeff
---------------------------
by (2016-12-03 14:56:45)
We are unable to continue LeN without your kind donation.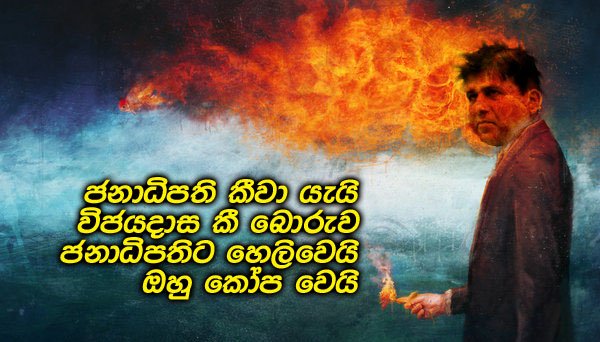 Leave a Reply