Wijaya Nandasiri who created mirth among people and made them happy no more !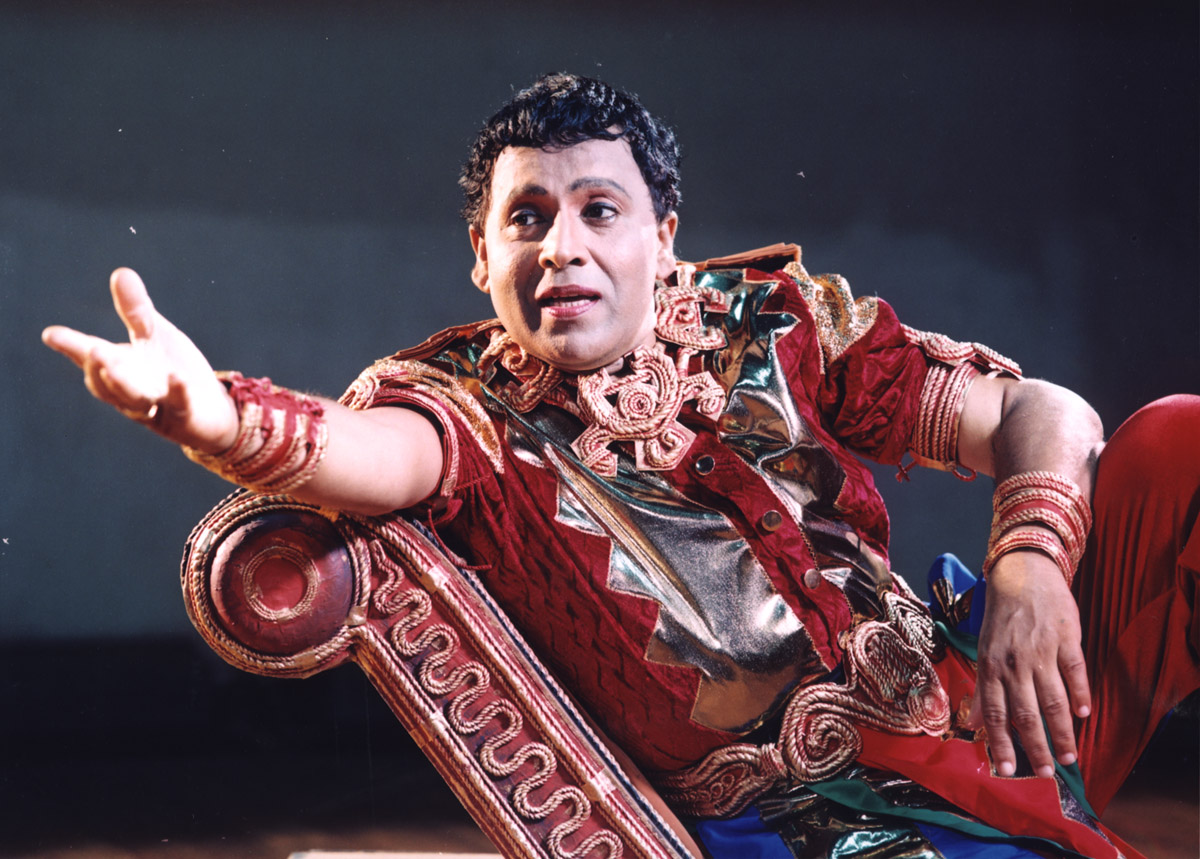 (Lanka-e-News -09.Aug.2016, 6.00PM) It is very rare that an artiste in the acting profession gets an opportunity to delight his audience until the final hour of his life. Wijaya Nandasiri was such a rare artiste who was performing in the comedy drama 'Aluth horek oney' of Ajith Mendis at the Wayambe provincial council auditorium , Kurunegala , yesterday evening(07) , a little while before his demise. Though he was somewhat sick, ignoring it , he continued to act with the objective of making the people happy and enjoy his performance.
However when he returned home he developed a cardiac arrest and passed away. By the time he was taken to the Kalubowila hospital from his home at Kalapura, Mt. Lavinia he had breathed his last. He was 72 years old at the time of his death.
Nandasiri was suffering from Diabetes over a long period of time, and owing to a wound on his leg , that leg had to be amputated. From that point of time he was using an artificial leg. After adjusting himself to the artificial leg with great difficulty and without making a show of that , he continued to delight his fans with his acting as though he was normal , and the public too enjoyed his dramatic performances – it is no easy task for an artiste to be engaged in his profession with such a handicap , and his courage therefore cannot be underestimated.
The writer who has experienced a similar fate is fully aware of the suffering faced by an individual who had all his limbs functioning ,and suddenly sees himself deprived of that ability. To an artiste who is actively engaged in the profession , what a challenge to grapple with ?
His children having completed their education abroad , Nandasiri could have easily led a relaxed retired life without continuing his acting with an artificial leg, yet he preferred the active life by continuing with his acting career with commitment . Being an artiste to whom keeping the people happy was the goal , may be it was his belief without mirth among the people there is nothing worthwhile in life.
Maname Kumaraya
Ilukpitiya Mudiyanselage Wijeya Nandasiri was born in the year 1944 , and received his education at Maharagama Vidyakara Vidyalaya . Later, he made his maiden appearance in 1966 on stage in the drama 'Vidura Diva' produced by Amaradasa Jayathunga. Subsequently when he was working as a waiter at Katunayake Airport , he was selected to act in the drama of Professor Sarachchandra in 1973 .
His acting career began to blossom Island wide after he was selected to play the role of Maname Kumara in the drama 'Maname'. The dream of the Maname Kumaraya in that role was to become a stage actor. It was a role that cannot be played by an ordinary young actor. That was because the one playing the role must of necessity be able to sing most melodiously . He must be able to sing, dance and make gestures, that is, he must acquit himself well in all the three spheres. Without those skills , none can become a successful 'Maname Kumaraya.' (Prince of drama) . Unbelievably Wijaya Nandasiri played this role of Maname Kumaraya and made people happy for two generations. It was Wijaya Nandasiri the skilled actor who for the longest period played that role of Maname Kumaraya.

His acting career lasted for decades . He acted in a number of dramas including Sinhabahu and Mahasara of Sarachchandra; 'Naribena and Jasaya' , and Lenchina of Dayananda Gunawardena . After playing a most special character in Rankanda drama , he played the role of chief minister in the drama Subha saha Yasa of Simon Nawagaththegama . He also acted in the drama Caucasian chalk circle (Hunuwataye kathawa) of Henry Jayasena .
Except 'Rankanda' all the other dramas are still being staged , and have been staged over thousand times . Nandasiri until his death was acting in them .
Kusa Pabawathi, Wurshaba Raja, Shree Gajaba and Bahratha Rejina were his own productions in which he acted. These dramas have been staged numerous times until today . He had acted in over 40 dramas.
Bulto role
In the recent past by playing the Bulto comedian role, Nandasiri became exceedingly popular , but the criticism that by playing light comedy roles he dented his 'great acting talent' cannot be deemed as derogatory of him because the trend in the country welcomed that kind of role ,and as such , the actor had no option but to fall in line with that trend.
The Bulto comedy roles of his in two penny half penny comedies 'ethuma', methuma' 'Nona weruni mahathweruni,' Yes Boss' ruined Nandasiri. He acted as a politician , broker or 'boss' which were all of the same mould, meaning that there weren't any difference in his acting performances.

This undesirable popularity made it difficult for him to acquit himself well in exclusively special roles. The fans began to laugh whenever he mounted the stage being reminded of 'ethuma' or 'methuma.' In such circumstances he let down not ethuma or methuma but Maname.
Nandasiri later turning into a comedy actor during the last decade and half is a matter for deep regret .In films too he received an award for his role as a comedian for his role of Kapuwa (broker) in the film 'Sikuru hathe.'

During the initial period he was associated with films but without success. He was selected for several films of K.A.W .Perera. May be because during that period , Nandasiri could not as a film actor go beyond film stars like Vijaya Kumaratunge, Gamini Fonseka and Raveendra Randeniya, that he got pushed into comedy roles later .
When he became comedy role actor later , there were many local actors like Joe Abeywickrema who played special character roles , as well as international actors . Was it fate that made Nandasiri the artiste to do an about turn in respect of his role? Or is it because his fans were unfortunate? It will be worthwhile doing an analysis on this.
No matter what , Nandasiri was a professional actor who was dedicated to his career and raised its professional value. He charged Rs. 25000.00 per day for his performance, and was a actor who demanded a high fee in Sri Lanka .
A sterling quality …
Throughout his acting career spanning over 40 years , Nandasiri was characterized by a salient trait. He was one who never secured political positions. He was not enmeshed in political cravings. Hence he was sidelined in people's campaigns. Moreover , unlike Jacksons who joined 'Jillsons' with nefarious objectives ,Nandasiri never exploited his popularity in a manner that was detrimental to the nation.
Besides , Nandasiri who had natural singing talent did not make use of it during his last phase of his life. His fans and followers must consider themselves unlucky on that account. Although Nandasiri had tremendous experience in the cinema, stage and teledrama spheres as a great artiste, those of the second generation did not get an opportunity to gain anything from his experience.
The officials too did not have any need to invite him as a visiting lecturer of the University of performing and visual Arts. Neither did the media have any need. Even when interviewing him , the media asked 'bibikang' ( irrelevant) questions. Naturally, therefore he kept silent after giving 'jujubes' answers to those stupid journalists . That was due to no fault of his but because the country was not fortunate enough.
All what we can say and sigh in conclusion is , the era of Wijaya Nandasiri has come to an end. As far as we can perceive , no one can replace Nandasiri the great artiste , or fill the void created by his demise .

Lanka e news and its viewers mourn the demise of Wijaya Nandasiri along with the members of his family and relatives in their bereavement . May he attain Nibbana!
Sandaruwan Senadheera
Translated by Jeff
---------------------------
by (2016-08-14 20:43:05)
We are unable to continue LeN without your kind donation.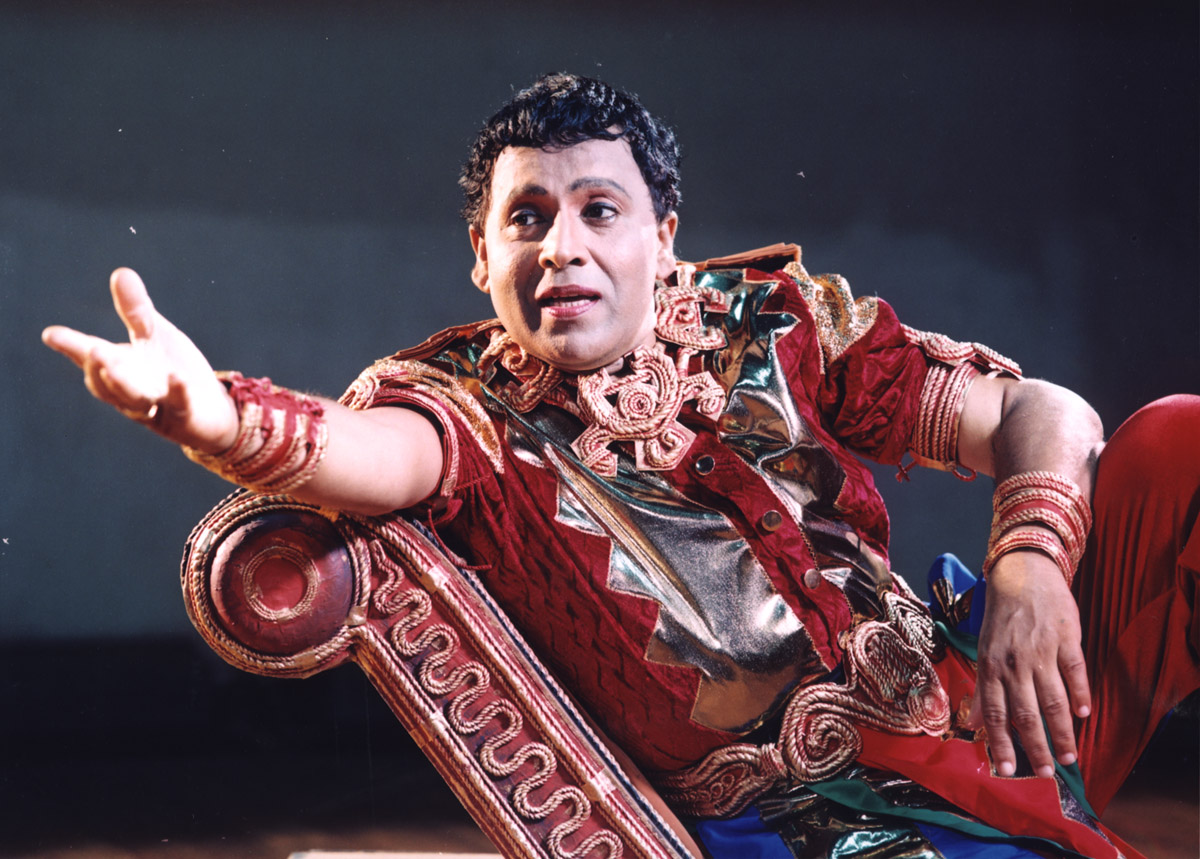 Leave a Reply