M.K.D.S. Gunawardena -Another stalwart who came forward come what may to support good governance passes away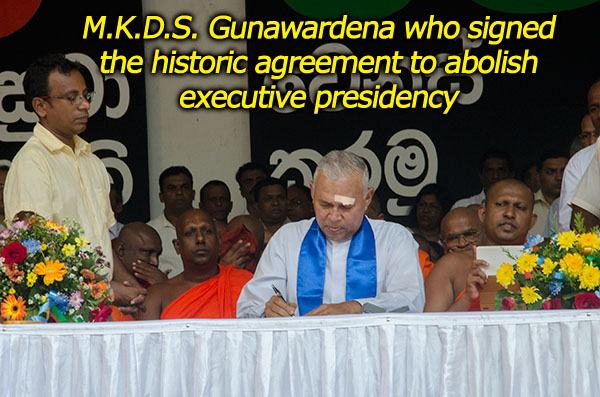 (Lanka-e-News -20.Jan.2016, 3.45PM) The minister of lands M.K.D.S. Gunawardena passed away on the 19 th at a Colombo private hospital at age of 69 years . Late Gunasekera was among the first group who left the Rajapakse regime in the first round ,throwing away his deputy minister post for and on behalf of good governance to join the opposition campaign.
The ailing minister was taken to England where his son and daughter reside for treatment . However after he returned to Sri Lanka , his condition did not improve.
Born on 6 th March 1947 , he is a senior member of the SLFP. He was good governance stalwart , and was a minister under the 100 days interim government as well as the national government formed subsequently.He did not contest the elections of 17 th August 2015 , and was appointed under the UNP national list.
He was the one who opposed Mahinda Rajapakse being given nomination by Miathripala Sirisena , and chose the UNP national list after rejecting the UPFA national list. When Lanka e news spoke with him before leaving for England , even in his ailing condition he expressed his bitter disillusionment and disappointment over appointments given by the incumbent president to Rajapakse crooks.
Late Gunawardena who entered politics after resigning the police force had in him all the welcome traits of the olden days politicians. It will not be wrong to consider him as the last of that superlative breed of politicians of the past . He was so unassuming and simple that in most occasions he did not have his footwear on.
Discussions are under way headed by the president regarding funeral arrangements , and we shall bring you a further report in that connection.
In any event , it is reported that T. B. Ekanayake a most corrupt notorious state minister who fattens on death and despair is biting his tongue most impatiently to fill the vacancy created by the demise of Gunawardena
---------------------------
by (2016-01-20 10:24:58)
We are unable to continue LeN without your kind donation.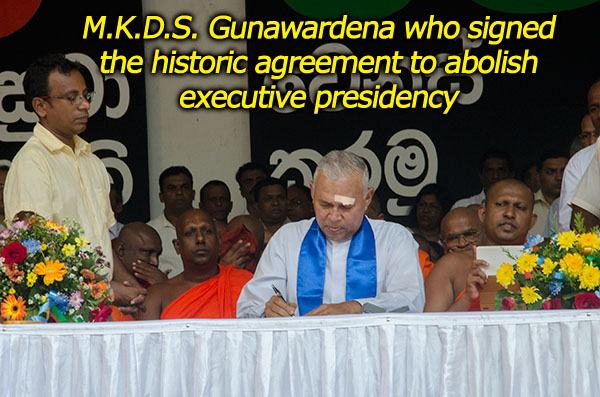 Leave a Reply