Blood thirsty Padeniya's doctors alias Draculas lust for blood again !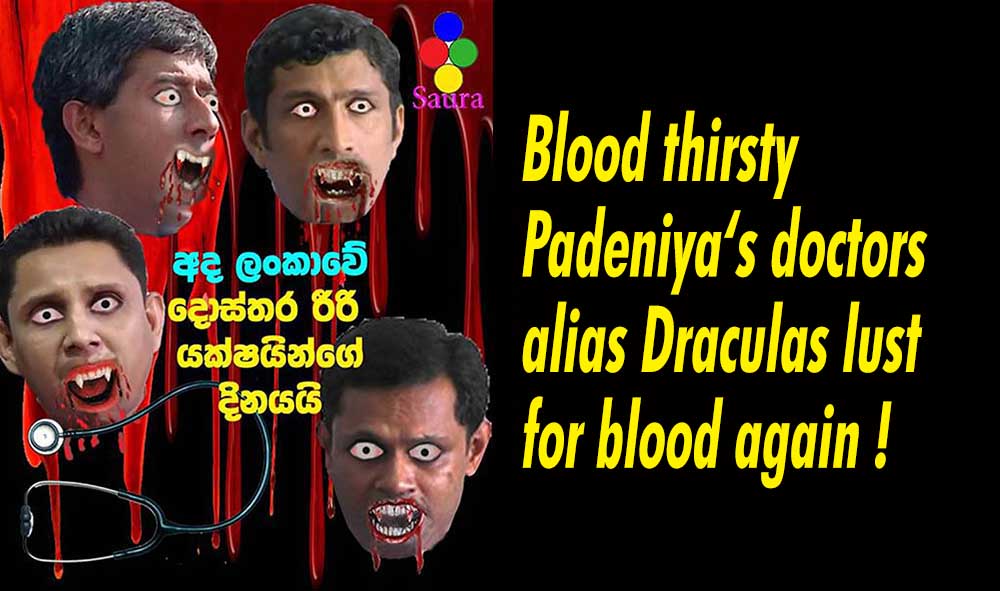 (Lanka e News -04.Aug.2018, 10.00PM) The mafia of Padeniya's doctors alias draculas who remained dormant for a while from their blood thirsty activities because of the opposition mounted by the people had again started their lust for blood of patients again !
This doctor mafia staged a strike on the 3rd compromising the precious lives of the helpless hapless patients despite their duty under oath to protect and rescue the patients .
Every profession in the world has the right to strike because it is a right to enable them to win their just demands. However the Padeniya doctor alias Dracula mafia in Sri Lanka stages strikes not to win justifiable demands of theirs but rather on matters which do not concern their profession at all. That is when the state is signing a useful profitable trade agreement with another state. Believe it or not ! this mafia due to its crazy mania is staging strikes against the trade agreement SL is signing with Singapore. Their objection is , because Singapore doctors are coming to SL , the rights of these maniacal self centered rascally doctors are being deprived. One reason is :if a doctor draws a salary of 4 to 4.5 million (in SL rupees) in Singapore is to come to SL for a low meager salary with minimum facilities, he is a mental patient and not a doctor.
The health sector of Singapore is so advanced that the salary payments and facilities are high so much so that even nurses of the state health service (NHS) of England (where the head office of Lanka e News is located) who enjoy all the facilities there , are now most anxious to work in Singapore after throwing away their jobs in England.
In such circumstances , if such Singapore doctors are to come to work in SL capitulating to the mafia of Padeniya's Dracula doctors , those doctors must either be insane or have lost their senses of course.
Let us assume , even for some mad reason the Singapore doctors arrive in SL for employment , surely that is going to be greatly beneficial and not at all harmful to the country .
When the rich Sri Lankans travel to Singapore for medical treatment wasting our foreign exchange and spending colossal sums of money, won't those expenses be curtailed if the Singapore doctors come to SL ?
No matter what contention Padeniya mafia advances in their defense , those are the same as or worse than the grounds cited by these moronic demonic doctors earlier on when they objected to the Indian ambulance service in SL.
In any event it is crystal clear , these bloodthirsty Doctor Draculas who are striking ostensibly citing the trade agreement are truly having other evil ulterior motives. It is to bring back the corrupt blue brigand Rajapakses back to power . It is obvious they struck work on the 3rd because they are in league with the corrupt criminal Rajapakses who staged a Janabala protest on the 2nd. By now it is well known the medical profession in SL has been reduced to the level of a group of pavement idlers by this Padeniya mafia owing to wasting their official time on the pavements staging meaningless senseless protests to the detriment of the patients and the nation.
These Doctor Draculas had presented a list of demands to justify their unjustifiable strike . The health minister Dr. Rajitha Senaratne however had furnished the following answers to those …
The GMOA had said , the Vat applicable to doctors which was 12 % has been raised to 24 %
In fact , the Vat levy has been raised to 24 % only in respect of doctors earning more than Rs. 350,000.00 per month. Hence the same 12% levy still applies to those doctors earning below Rs. 350,000.00 per month.The announcement that the Vat has been increased to 24 % is a baseless allegation therefore .
The GMOA alleges the Vat Levy of 15 % imposed on private hospitals is to impose tax burdens on the people .On the contrary , since last month , the Vat levy which applied to private hospitals had been totally withdrawn.A trade union like the GMOA being unaware of this fact is a matter for deep regret .Because the government has completely withdrawn the Vat applicable to hospitals , the Vat levy attaching to patients is inapplicable whereby the patients are granted a relief.
Therefore it is obvious this unjustifiable strike of the GMOA is not in the interests of the nation .
It is worthy of note , the government has decided to reduce the indirect taxes which are burdening the ordinary people. It is with this objective in view it is collecting taxes from the high income earners.
It is an incontrovertible fact owing to the unjustifiable and unreasonable strikes staged by the Doctor mafia based on their inordinate greed for filthy lucre, and self centered interests which are their true hidden overriding motives , a large number of patients had to face abysmal suffering in the past. Based on reports reaching Lanka e News , a number of private organizations are now getting ready to take legal measures on behalf of the rights of the hapless and helpless patients . It is therefore best if the Padeniya's doctor Dracula mafia in their own interests stops its cruel activities which compromise lives of patients, before it is too late.
It is hoped the realization will first and foremost dawn on these doctor draculas , there can be no progress for the country and the people with such a GMOA at the helm of which there is a pack of idiots with GOMA (cow dung) in their heads . Hence they must first mend their ways giving priority to that rectification instead of staging stupid senseless strikes.
---------------------------
by (2018-08-04 17:16:17)
We are unable to continue LeN without your kind donation.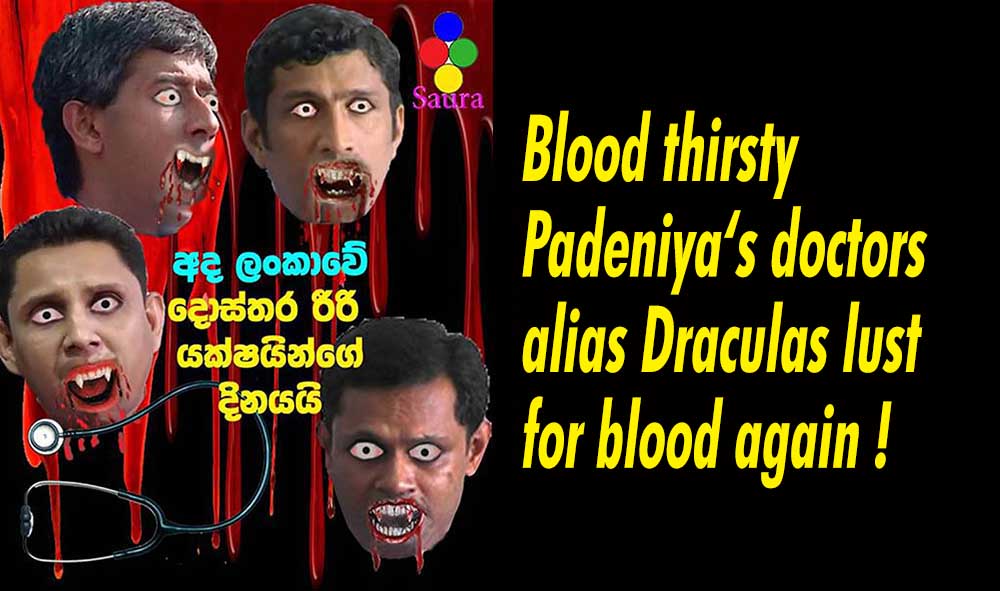 Leave a Reply