'Rosatom' arrives to conclude Sirisena- Maharaja missed blacklisted Co. warship deal - Sirisena's Rs. 40 billion worth profusion of lies!!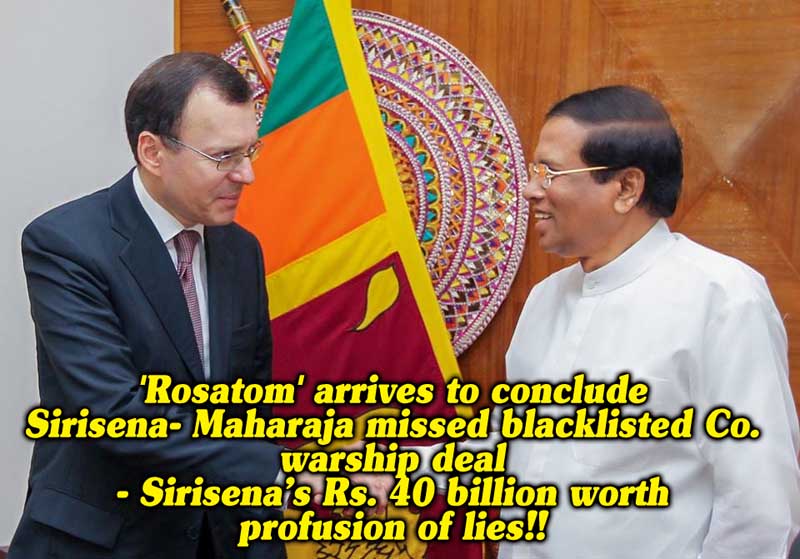 (Lanka-e-News - 21.Jan.2018, 11.25AM) President Sirisena whose eagerness for filthy lucre often outruns his sureness , is once again seeking to push through the missed warship deal after pulling the wool over the eyes of the people.
Initially it was Rosoborono export Co. of Russia, a weapons supplying agency which was chosen for the purchase of the Russian warship plus weapons by Sirisena – Maharaja mahajara (dirt and dross) team in order to collect a cool illicit commission of over Rs. 40,000,000,000.00 (Rs. 40 billion !)
Sadly for the mahajara Sirisena – Maharaja team , since Rosoborono Co. is blacklisted by America and NATO countries , the deal could not be concluded for economic sanctions could be imposed on SL if that deal was concluded despite Rosoborono Co. chief Alexandrovich Mikheech visiting Sri Lanka to finalize the deal
President's son in law Tilina Sampath another notorious racketeer
Meanwhile what the Sirisena – Maharaja mahajara team did was , smuggled out Evjeni Meekailovich Borgachev alias Farin Manokin a Russian national and notorious criminal cum hacker to Russia while he was most wanted by America . Not only he , his family too including his wife and daughter were smuggled out to Russia in the private jet of Rosborono export Co. owner.

Unbelievably , president's son in law Tilina Sampath another notorious racketeer himself had taken the initiative to smuggle out the hacker and family in the private jet of Mikheech ,after deleting the CCTV camera recordings and under Thilina's own security protection despite the intelligence division of America having made known the criminalities pertaining to this Russian criminal.

All the recordings in the CCTV cameras at the Airport relating to this smuggling operation were also deleted in the evening on the same day . Thilina himself has taken personal interest in this deletion. After these reports reached American intelligence division , Thilina is forced to lead a cloistered life.

The Russian loan program for the purchase of the warship was to be closed on 31 st December ,but with 'Rosatom' coming forward in lieu of blacklisted Rosoborono, it had been extended for a year.
Following the failure to conclude the warship deal with Rosoborono blacklisted Co. , representatives of the other agency 'Rosatom' arrived in SL on the 17 th . They met with the president first and foremost.
'Rosatom State Atomic energy Corporation' Truth and Lie
The presidential media division resorted to hole and corner methods when revealing details in this connection to the people. It referred to this agency as 'Russian State Corporation ROSATOM' ,and regarding the purpose for which they are here , the president's media division stated ' this group has arrived in SL with a view to improve SL's scientific, technological , research sectors , and to offer scholarships in that connection , as well as to promote ties between the two countries in a number of fields including energy, Industries and agriculture .This is an absolute lie. The true name of this agency is 'Rosatom State Atomic Energy Corporation' though Sirisena hid the part 'atomic energy' . The activities of this agency includes regulating all the atomic complexes in Russia. These complexes are not only concerned with atomic energy but also nuclear weapons.

To make it more clear , it is this 'Rosatom State Atomic energy Corporation' which is the authority for all the atomic resources of the civil and armed forces in Russia . In other words this has nothing to do with agriculture and are not engaged in agriculture. Then why should they come here to SL to offer scholarships pertaining to atomic energy ? is a crucial question . Where is such education being imparted in SL? Is it in the Paget Road residence of Sirisena or inside some other dungeon of his ? Only mendacious Machiavellian Sirisena can provide the answers .
We are compelled to ask such questions because , when such an atomic energy agency arrives in SL it ought to first meet with those who are associated with such affairs before meeting the president. Always when a foreign representative arrives he/she first meets the foreign minister and officials of the relevant ministries or the Institutions. The president and P.M. are met only in the second or third round. Breaking protocol , they have in this instance met with the president straightaway . This is because the warship deal which could not be concluded with the blacklisted Rosoborono Co. is to be concluded with this agency on the sly , and the latter had come specially for this.

The 'Rosatom State Atomic energy Corporation' which is a Russian nuclear resource authority has got linked to the warship deal in a most bizarre manner. The 'Rosatom' is an agency connected with the regulatory relating to ships that steer through icebergs on nuclear power . Using that link Rosatom has arrived in SL to conclude the missed warship deal.
Sirisena who is now a bundle of confusion and from whose cavernous mouth never a lie fails to drop each time he opens it , in the opening sentence of his speech itself pulled the wool over the eyes of the people.

It is hoped the president at least at this belated stage will realize duping Lanka e news is as difficult as is easy for him to dupe the people. Though he may dupe the people , duping Lanka e news is beyond him. Let us warn in the best interests of the nation , LeN is keeping the prospective warship deal of Maithri and Maharaja detrimental to the nation under its constant surveillance.
(In the picture is Nikolay Spasskiy the deputy Director General , Rosatom when he met with president Sirisena)
By Candraprdeep
Translated by Jeff
Connected report.
* ''US dollars million Mega illicit deal not second to Gota's MiG deal –Kili Maharaja moving heaven and earth to push through !! -Tender procedure ignored ; Ruwan Wijewardena's name too dragged in''
* President's gaze on illicit commission blinded him : Faces retributive justice after ousting Sinniah !
* Gota's MiG racket eclipsed by multi million dollar deal of Maharaja and son in law of president !
* President's babyish pretences petering out ! Navy Commander Sinniah 's service terminated in a month !-3 Admirals opposed the war ship deal, yet unheeded!
* Astrologers predict President will descend into 'dog mark' category in 4 months! - Therefore seeks to push through sordid warship deal before that !
* Cabinet ratifies millions of Rs sordid warship deal that will line the pockets of Kili Maharaja and president's s-i-l !
* Maithri -Maharaja 'mahajara greed' plunges country into doom and gloom -Rusian Rosoborono agency is a blacklisted Co.!
---------------------------
by (2018-01-21 06:22:12)
We are unable to continue LeN without your kind donation.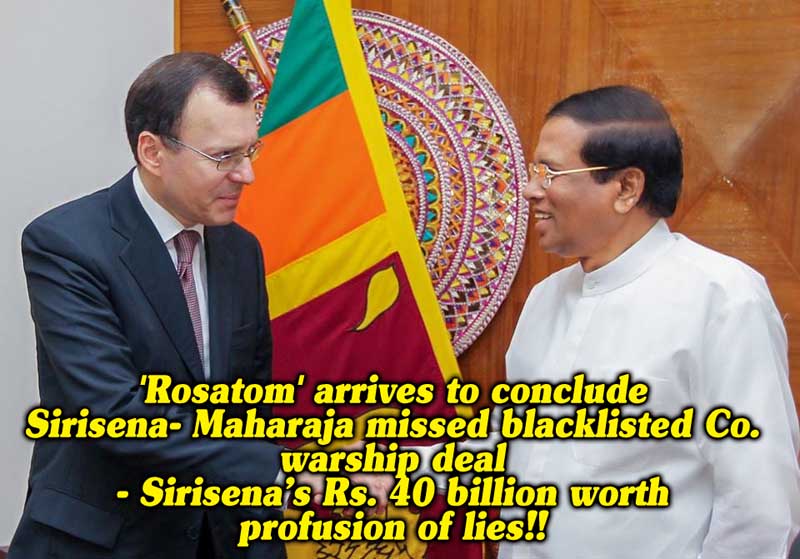 Leave a Reply