If president's statement is true, it is breach of P.M.'s parliamentary privilege - Lawyers..!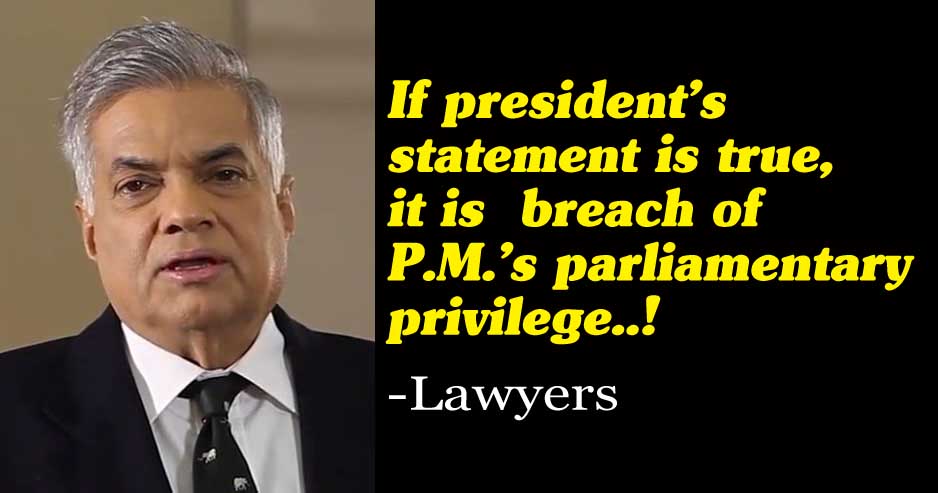 (Lanka-e-News - 04.Jan.2018, 6.20PM) While the presidential commission report on treasury bond mentioned that the statement the Prime Minister (P.M.) should make in Parliament must be averted , the president gave his own interpretations regarding the Bond Commission report yesterday (03).
If the Commission report makes mention such a restraint , a number of lawyers speaking to Lanka e news said , the Bond Commission report has committed a breach of privilege in respect of P.M. It is an unassailable truth that nobody can say the statement to be made by the P.M. in parliament should be avoided. On the other hand if a statement to be made in parliament is not what ought to be made , and that should be averted ,it is only the speaker of parliament who has the powers to decide on that, and that is only if it constitutes a breach of another's parliamentary privilege.

In the circumstances , no other legal Institution has powers to decide that the statement made by the P.M. in parliament ought not have been made. Based on that , the lawyers questioned whether the presidential Commission (Comic- mission ) has therefore exceeded its powers , and thereby acted in breach of privilege of the P.M. ? One lawyer, a P.C. even went as far as to assert , it has even challenged the powers of the supreme parliament.
The president meanwhile revealed yesterday the appointment of Arjun Mahendran by the P.M. as Central bank governor is no issue ,and has been duly done.
In any case going by the putrid untrustworthy antecedence of Maithripala , the latter making references and interpretations based on extracts without revealing the report of the Commission to the people are most dubious.
Lanka e news has no faith in what he says because Maithripala is currently mentally warped so much so that , when addressing a huge crowd recently at the Sugathadasa Indoor stadium he committed a grave unpardonable blunder : instead of the name Shahid Khaqan Abassi , the present P.M. of Pakistan he called him Mohomed Shariff (an unknown name except among pavement hawkers of Sri Lanka ) . Maithripala even went on to blabber that he spoke to Mohomed Shariff and got down a shipment of manure. When the president is so demented and suffering from mental disequilibrium , how can we repose faith in him or his utterances any longer?

Therefore , it is our earnest request to the Commissions to release the reports to the internet , in which event giving interpretations to those by individuals according to their own fancies can be precluded.
---------------------------
by (2018-01-04 12:45:37)
We are unable to continue LeN without your kind donation.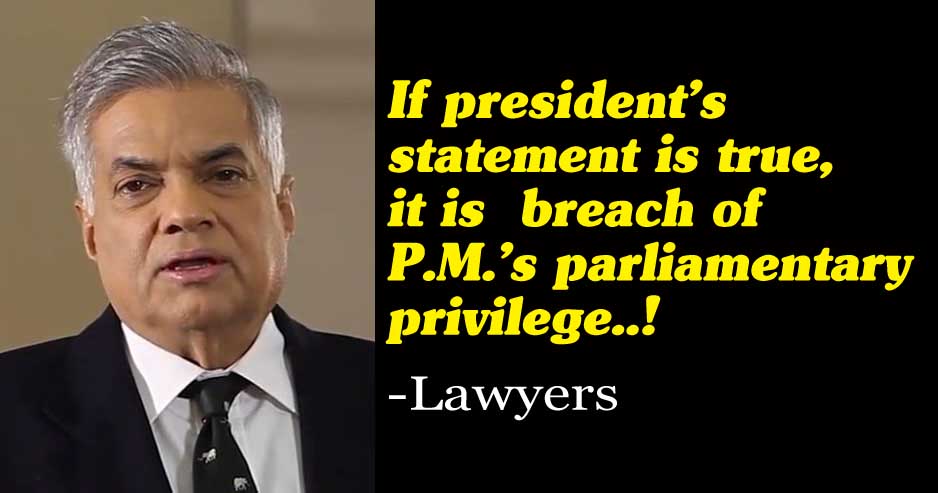 Leave a Reply