Susil Premajayantha with UPFA ? To begin MR's poly-tricking politics with Kegalle rally !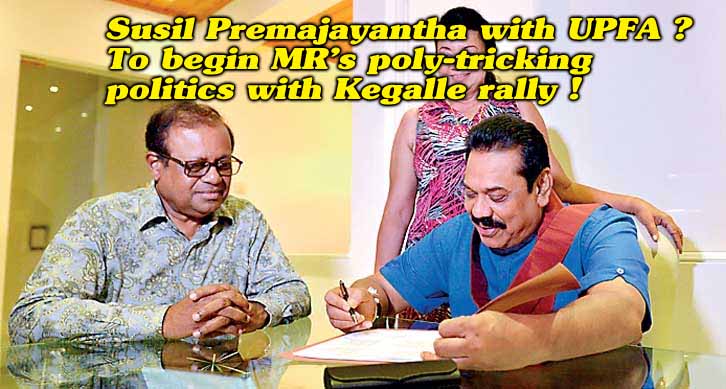 (Lanka-e-News - 18.Nov.2017, 11.45PM) The UPFA (Unted People's Freedom Alliance ) despite its loud boasts and brags about its 'TinTin' heroic feats, is in a muddle following its decision to contest the next elections under the flower bud symbol , with regard to whether it can win electorally and at national level. In the midst of this crisis , ex president -the defeated and deflated Mahinda Rajapakse has decided to get Susil Premajayantha in and make him the national organizer of the alliance , based on reports.
This ploy is to show that the UPFA is fair and a place is given to outsiders other than Rajapakses too to hold a high position in the party . Premajayantha is expected to mount the stage of the Alliance at the Kegalle rally and is to be made a speaker. This is to encourage others in the Maithri group who are on the fence also to somersault to the alliance.

With Basil Rajapakse not agreeing to grant the desired nominations for National freedom Front candidates of Wimal Weerawansa , there has also sprung up a conflict within the Alliance .
Mahinda Rajapakse had said , Susil is most suitable after balancing all aspects within the Alliance.

In any case at the 2015 August elections it was Premachandra who prepared the nomination list of the UPFA. At that time because in Premachandra's nomination list , Duminda Silva's (Kudu Duminda's) name was not there as candidate for Colombo, Mahinda Rajapakse gave a thundering slap to Premachandra in the latter's home itself. Premachandra's blood pressure shot up as a result and had to take treatment after hospitalization. Premachandra seems to have forgotten all that now . Perhaps a thundering slap again will only revive his memory. It is because shameless scoundrels like Premachandra exist , Gandhi said , 'a slave is a slave because he consents to slavery.'

Not only a dog of low breed but even an Alsatian cannot stop its habit of wagging its tail before its 'master' irrespective of whether the ' master' is the worst culprit the world has ever known.
---------------------------
by (2017-11-18 18:50:49)
We are unable to continue LeN without your kind donation.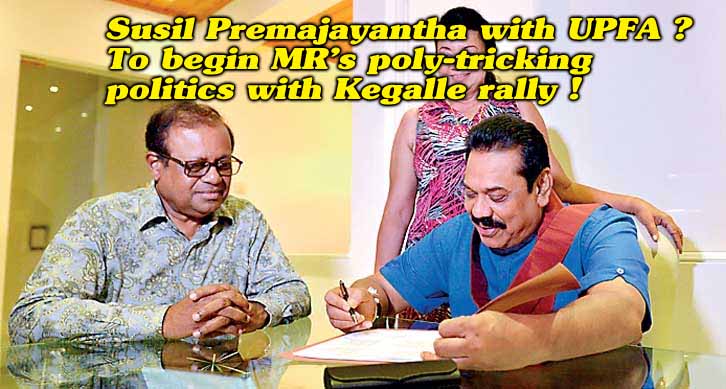 Leave a Reply