P.M. to the fore to implement Bond Commission report recommendations! Perpetual Treasuries barred for 6 months !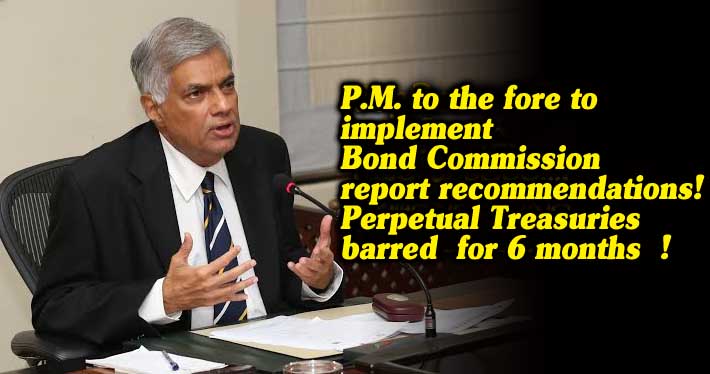 (Lanka-e-News - 06.Jan.2018, 10.35AM) A discussion chaired by Prime minister (P.M.) Ranil Wickremesinghe was held at Temple trees on the 5 th with a view to expedite the recommendations made in the Bond Commission report .
The P.M. gave instructions to the Central Bank Governor to commence implementation of the recommendations after holding discussions with the Finance Committee as soon as the full report is out.

In addition a forensic audit inquiry shall be conducted in accordance with the recommendation in the report towards which a suitable local or foreign Institution is being sought , the Central Bank governor revealed.
As the Commission has recommended that all the corruption and malpractices during the period between 2008 and 2015 shall be investigated and legal action be taken , the need to preserve and protect the Central bank files was discussed at the meeting. This task was entrusted to the Committee comprised of the Central Bank Governor , Secretary to the Treasury and secretary to the Ministry of law and order.
Finance minister Mangala Samaraweera , Law and order as well as Southern development minister Sagala Ratnayake , State minister for national policies and economic affairs Niroshan Perera , State minister of Finance Eran Wickremeratne ,Deputy minister of national policy and economic affairs Dr. Harsha De Silva , Secretary to P.M. Saman Ekanayake , Treasury Secretary Dr. R.H.S. Samaratunge , Secretary to national policy and economic affairs K.D.S Ruwanchandra, secretary to ministry of law and order and Southern development Padmasiri Jayamanne , and Central Bank Governor Dr.Indrajith Coomaraswamy attended the discussion .
Following the discussion , it was decided that the Perpetual Treasuries Co. be precluded from the Central Bank's primary marketing for the next six months with effect from yesterday (05). The business of the Company was suspended earlier on.

Meanwhile the chairman of the Flower Bud party Dr. G.L. Peiris addressing a media briefing said , legal action cannot be filed against the former Governor of Central Bank Arjun Mahendran. He reminded everyone that Arjun Mahendran was appointed by the president and no other.
---------------------------
by (2018-01-06 05:13:05)
We are unable to continue LeN without your kind donation.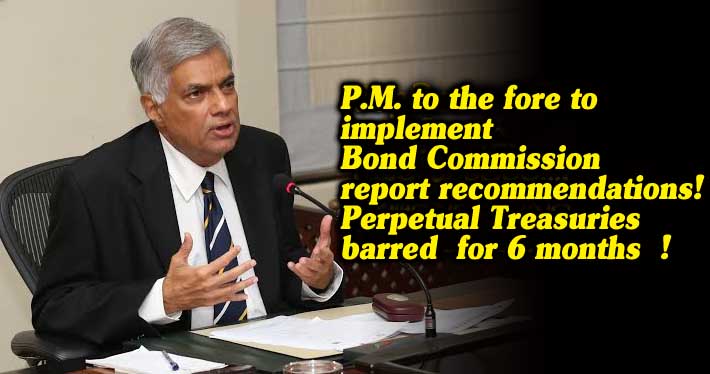 Leave a Reply