Expose ` -Tea ban drama was a camouflage to smuggle out Russian cyber criminal with knowledge of Maithri ! - Diplomatic sources exposure !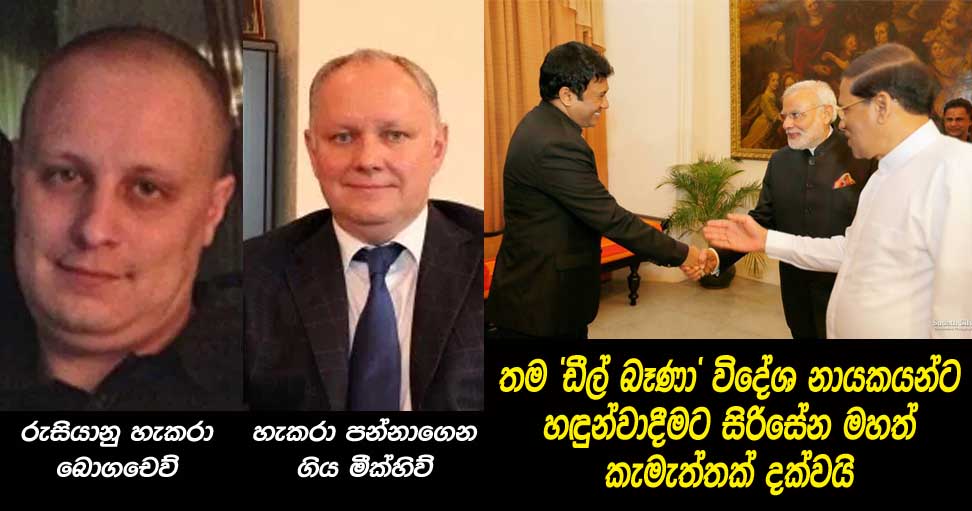 (Lanka-e-News- 28.Dec.2017, 8.15AM) Cyber criminal (Hacker) Evgeni Meekayilovich Borgochev alias Farin Manokin a Russian national who is wanted by America and against whom there is an Interpol warrant was smuggled to Russia from SL via a subterfuge orchestrated by Sri Lanka president Maithripala Sirisena and Kili Maharaja team, and according to a foreign diplomatic mission spokesman who did not wish to reveal his name speaking to Lanka e news , the recent tea ban was a fake drama enacted with full knowledge of Maithripala and Putin the Russian president.

This most wanted criminal had been dispatched to Russia in the private jet in which Rosoborono export owner Alexander Alexandrovich Mikheech arrived in SL purportedly to sign the warship deal.
The world's No. one hacker Borgovich was arrested in SL last March by the police not because the Police knew his actual identity but because he had arrived in SL on a passport bearing the name 'Farin Manokin'
SL Police took Manokin into custody in SL on money laundering charges in Weligama . He was later released on bail by the intervention of the owner of the hotel where he was lodging . Manokin thereafter did the vanishing trick , and never appeared in court , while the foreign ministry secretary at that time instructed the police not to displease the Russians.
The same foreign mission spokesman revealed , after Manokin was released on bail , this Russian national was helped to remain hidden via the machinations of a director of Kili Maharaja and the son in law of president Maithripala Sirisena. This was because Russia had requested to hand over this criminal to them .Russia did not disclose this criminal is Borgovich on whom an Interpol warrant has been issued , and Sri Lankans did not know he is Borgovich.
Because Maithri-Maharaja mahajara team was mainly aiming at fixing the warship deal , they had acted to grant Russia's request. Meanwhile America getting wind of this requested to hand over the criminal to that country under the laws governing extradition of criminals and the pact signed with SL. America of course had not hidden the fact that Borgovich is the international hacker on whom an Interpol warrant has been served . But , since Maithri –Maharaja team was focused fully on the warship deal for obvious reasons, they had been dancing to the tune of Russia . Owing to this the team has informed America the 'Russian' has gone missing.
Russian hacker smuggled out via the private jet of the Rosoborono export owner who came to sign warship deal…
Meanwhile Rosoborono export owner Alexander Alexandrovich arrived in SL in his private jet to sign the warship deal. This individual is so close to Russian president Putin that they are like flesh and skin.
This visit of Alexandrovich aroused suspicions because he came to sign just a US dollars 150 million deal in SL when he is the same Alexandrovich who did not visit India to sign contracts involving thousands of millions of dollars.
This Rosoborono export Owner and his team that arrived in SL were not bound by any Immigration and Emigration laws , neither were they subjected to security checks during their 48 hours stay here . Even when he and his team were leaving SL after the deal was signed they were immune from security checks , and the Immigration and Emigration laws.
The most wanted criminal and hacker Bogovich alias Manokin had been smuggled out in that private jet along with his wife and daughter.
The diplomatic mission spokesman revealed to Lanka e news , all these manipulations were orchestrated with the knowledge and consent of president Sirisena's son in law , and Maharaja's director. Even the presidential security division were not allowed to know anything. The lifting of the tea ban after imposing it was a drama enacted to conceal the conspiracy from the world , the spokesman added.
While this conspiracy was in progress , the American FBI officers arrived in SL in search of the Russian criminal. Sirisena and the Russians after pulling the wool over the eyes of the FBI have smuggled out Borgovich alias Manokin. The FBI officers were enraged over the weakness of the US ambassador in SL , and as a result the latter is likely to be called back to America , the spokesman noted.
The Diplomatic mission spokesman further disclosed , in the not too distant future , SL will have to face the repercussions of this conspiracy when US officials take action .
In conclusion the spokesman lamented , by this incident the whole world has been made to know what exists in SL now is not a consensual government but a dual government .
This operation to smuggle out the Russian criminal hacker was not known at all to the UNP of the consensual government , or the IGP or his intelligence divisions based on inquiries made from security divisions by Lanka e news.
---------------------------
by (2017-12-28 02:48:36)
We are unable to continue LeN without your kind donation.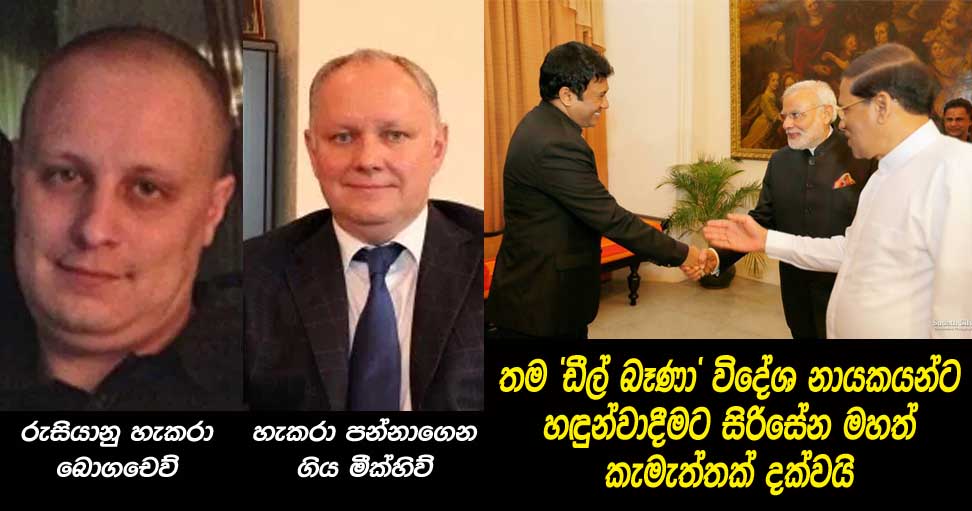 Leave a Reply