Ripley's believe it or not put in the shade -Revealing who banned LeN imperils national security !!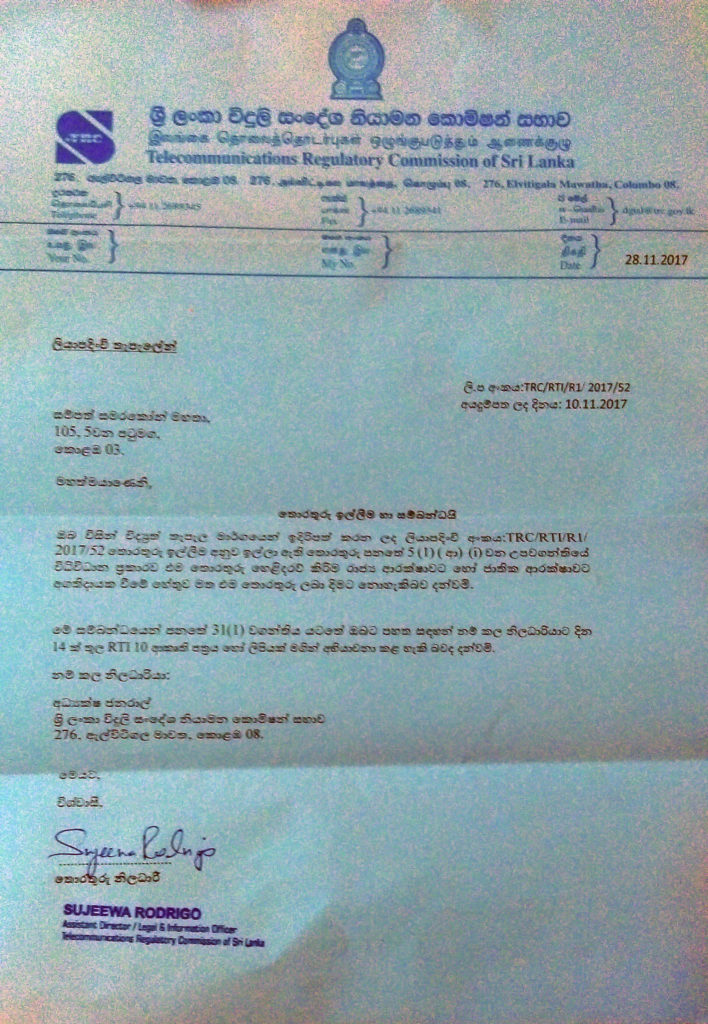 (Lanka-e-News - 07.Dec.2017, 9.30PM) When the convener of ' Internet media activist' and editor of 'Vikalpa' (alternative) website Sampath Samarakoon , as well as 'Mathram' website editor Selvaraja asked for details under the right to information enactment regarding the ban imposed on LeN within Sri Lanka , from the SL Telecom Regulatory Commission (TRC) , they were told , 'because of national security and government's security that cannot be disclosed ,and as it can militate against country's security , the request cannot be granted'
Even Ripley's believe it or not will have no story to match this vis a vis its morbidity , stupidity and incredibility.
The chairman of the TRC is Austin Fernando . Some time ago when LeN editor asked him via phone , why LeN was banned , his answer was , he was abroad in Vienna and his Director General was in Nepal when the ban was imposed , and therefore both of them do not know anything about it.
When it was inquired whether at least now that would be probed into , the president's secretary and Commission's chairman replied, if an inquiry is made legally , an answer will be furnished. Accordingly , lawyer for LeN , Upul Kumaraperuma sent a letter on 23 rd November to Austin Fernando inquiring about the matter.
This letter was on the same lines that was sent to the former Director General (News).
In the letter it was plainly inquired whether the website news publication was obstructed based on a court order , or on the instructions of an Institution or any individual , and if so on what legal or other grounds? Sadly , neither the Commission chairman nor the Director General (News) has given any answer so far . Unbelievably , it is under such circumstances , the Commission's information officer refused to provide the information sought while taking refuge under the defense that revealing the information would militate against government's and national security.

The letter to that effect sent to us by the Commission's information officer is hereunder.
---------------------------
by (2017-12-07 16:29:15)
We are unable to continue LeN without your kind donation.
Leave a Reply