MaRa-Sira crime syndicate decides: Sira suddenly becomes MaRa's 'our president'; conspiracy to arrest UNP leaders ! (Video)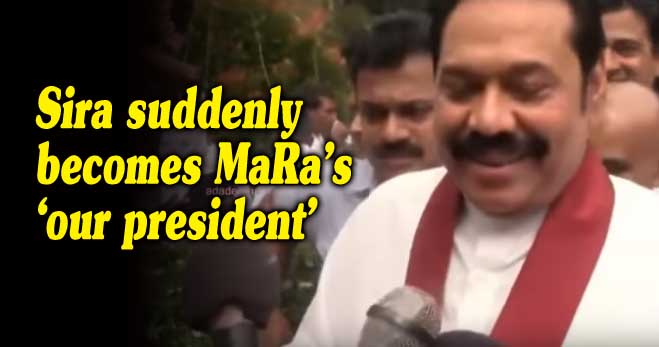 (Lanka-e-News - 28.Nov.2017, 5.30PM) Truly incredible ! When the most incredible betrayal has been committed by a single traitor in the past , what cruel treason can't be committed when two Machiavellians collude specially after they have collided against each other? To Maithripala double crossing is a way of life, and for the two Machiavellians Maithripala and Mahinda double crossing each other was one thing . All what they need are a couple of rotten hoppers. But double crossing to betray an entire country is an entirely different thing to them .
Machiavellian notorious Mahinda Rajapakse the deposed people discarded corrupt ex president shocked the whole country on the 26 th when he said , ''we shall look after 'our president'.'' This announcement on the face of it is most ludicrous though ,because none expected Maithripala to become a Judarse beating Biblical Judas in betrayal , signaled doom and gloom to the whole nation that was anticipating a lot from him as good governance president .
Machiavellian Mahinda Rajapakse best known for the worst tricks and treacheries revealed this at a Temple in Ahungalla on 26 th. That was after he gave the final consent to sign the reconciliation agreement with Maithripala Sirisena who has by now displayed his true colors as the greatest betrayer the country has ever known , and therefore dubbed a traitor vis a vis the fact that he grossly betrayed the very party on whose votes he came to power , and for cheating on the 6.2 million voters who faithfully and implicitly trusted him to carry on a government of good governance.
The decision to sign the reconciliation agreement between Sirisena the traitor of the people , and Machiavellian Mahinda Rajapakse who earlier on wanted to bury Sirisena 6 feet underground was taken on 26 th evening .
The Sirisena group following this meeting, officially intimated its decision to Malik Samarawickrema the president of the UNP on the 26 th, following Sirisena becoming Mahinda Rajapakse's inglorious 'our president.'

When a journalist questioned , 'if the UNP joins with the TNA and forms a government what will you do ?' from Mahinda Rajapakse , he replied , ''That is what we also want. Tell them to go ahead , and let us see . Give us our group. Then it will be over. We shall look after 'our president'.''
After cruelly and unconscionably betraying the 6.2 million people who voted him into power , the same Maithripala Sirisena by becoming the inglorious 'our president' to people discarded Machiavellian Mahinda has proved ,to what monumental and alarming extent 'Judarse' Maithripala has betrayed the 6.2 Million people who cast their votes against Mahinda Rajapakse.
It is now clearly confirmed , the Rajapakse crooks and murderers of the Blue brigand were not brought before the law for the last three years because Maithripala the Judarse was with the crooks, and a plaything cum 'our president' of 'Mahinda Rajapakse .
He has also proved , because he was 'our president' of Mahinda that he villainously and traitorously paved the way for Dilrukshi Wickremesinghe of the Bribery Commission to go home because she hauled up the Rajapakse crooks who routed the country's economy, before courts .
He has also demonstrated that as Mahinda Rajapakse's 'our president' he slung mud at the UNP leader mounting false charges. Being Mahinda Rajapakse's 'our president', no wonder he issued red alert Interpol warrant against Lanka e news ; used his sidekicks to file legal action ; and finally imposed an illegal ban on Lanka e news .
Now Maithripala Sirisena has confirmed, it is in order to become MR's 'our president' he kicked out 6.2 million people's mandate most shamelessly . And on the 24 th at Nikaweratiiya made announcements which were not at all in consonance with an honest ,dependable , civilized president of integrity and rectitude ,conducting himself in much the same way as a lunatic recklessly beating a drum hanging around his neck.
President Maithripala who gets panicky , paranoid and furious when justifiable criticisms are leveled against him, and does mad things like a rabid dog whose testicles have been soaked in petrol, began behaving like a dictator while issuing most threatening warnings , that is, don't invite disaster on yourself.
His threats and intimidations were baseless because criticisms leveled against him were based on valid, just , fair and factual grounds in respect of the corrupt warship deal he is seeking to put through jointly with Maharaja the mahajara wheeler dealer; his collection of illicit commissions from an Australian Co. when he was the irrigation minister; the granting of the electronic frequencies belonging to the public to Maharaja at most cheap rates to the detriment of the country; and the exposure of his daughter's companies which are being lavished with all the favors at state expense including the state sector advertisements worth many millions being channeled through those companies. Just because Lanka e news exposed these rackets and the corruption with evidence , it was banned without a legal directive as part of Maithripala's media suppression which he has launched.
In addition , he conspired to destroy the Democratic tenets and traditions by creating a background to postpone elections .
Now it is very obvious , president resorted to all these sordid tactics only to acquire the necessary qualification to become Rajapkakse's 'our president' and another 'MaRa ' jara (filth) .
What is most despicable and diabolic in the foolish announcement made by Maithripala alias Mahinda Rajapakse's 'our president' at Nikaweratiya while stooping to all these sordid activities was : He will cast aside all his official posts , and take to the streets along with the people to campaign against the crooks. It is only now this moron has realized 6.2 million people voted for him to do just that . Sadly , it is apparent he had been suffering from amnesia all these days .
While Maithripala is now talking about taking to the streets to campaign along with the people , we on the other hand wish to challenge Maithripala to show one picture that depicts him taking part in a people's struggle during his political career spanning 50 years . Perhaps it is his acute amnesia that is prompting him to make such grandiose 'big' talks . If he truly has a good memory, sense and sanity , he would fight shy of making such empty brags now , knowing well his own self centered putrid antecedence.

This is the Polonnaruwa 'backwaters crocodile' that did not ever take to the streets in the people's struggles is now shedding crocodile tears on behalf of the people.
Based on the reports received at the time of finishing this article , in order to justify the biggest betrayal of 'Judarse', it has been planned by the ''think tank' of 'MaRa's 'our president' to arrest a group of UNP leaders after falsely alleging it has come to light that a conspiracy was hatched to murder 'our president
---------------------------
by (2017-11-28 12:10:47)
We are unable to continue LeN without your kind donation.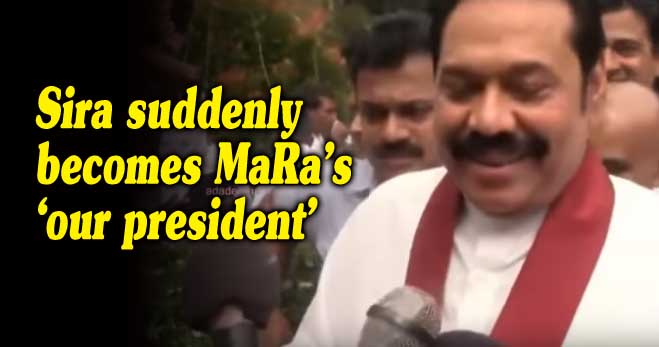 Leave a Reply