Shalila Munasinghe chairman of Litro gas cum 'Swan' who robbed Taiwan bank of millions of dollars via wire transfer arrested..!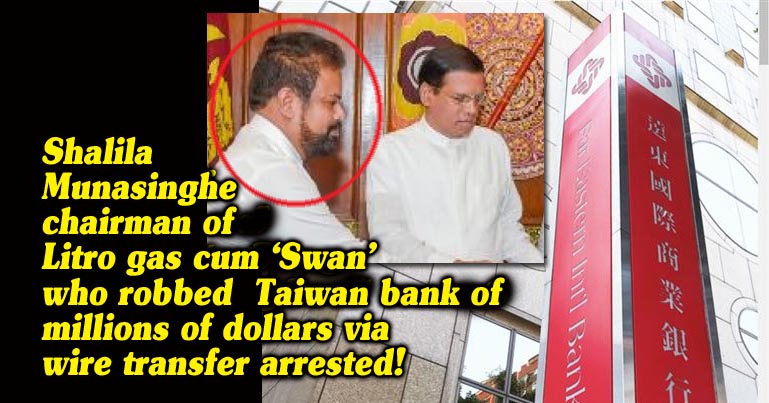 (Lanka-e-News - 10.Oct.2017, 11.30PM) Shalila Munasinghe the chairman of Litro gas Co. was arrested by the CID yesterday (09) on charges of massive financial misappropriation committed by hacking the bank chain of the Far Eastern International bank Taiwan branch through the internet wire transfer method . Of the total sum of US dollars 60 million approximately that was robbed via this scam , a part of that sum had been siphoned off into Munasinghe's account with his knowledge . Munasinghe was therefore arrested on the 9 th on charges of fraudulent misappropriation of funds and money laundering.
It is specially noteworthy when Maithripala Sirisena won the presidential elections as common candidate , it was Munasinghe who was appointed as president of the New Democratic Front party. Maithripala in fact won the elections under the 'Swan' symbol of this party .It was minister Kabir Hashim who appointed Munasinghe as the chairman of Litro Gas which owns most shares of Sri Lanka Insurance Corporation coming under the purview of Kabir Hashim.
The Taiwan bank was hacked using its international bank code (SWIFT) on the 4 th. The sum of US dollars 60 million that was so collected was credited to banks in America , Kampuchea and Sri Lanka . US dollars 57 million was credited in Kampuchea , 1 million dollars in America and 1.6 million dollars( about SLRs.250 million ) in SL.
Following this discovery , a team of investigators of Taiwan arrived in SL and conducted an investigation along with our CID . Of the sum that was robbed , a certain part had been credited to an account under the name of J.C. Nammuni who was arrested recently. He had credited Rs. 30 million into his account. When he was on the way to the bank to collect a further sum of Rs. 8 million he was taken into custody.
Subsequently , a further sum of US dollars 1.6 million that came into SL has been credited to 'Shalika Foundation'. As this account belonged to Shalila Munasinghe and this sum has been credited to this account with Munasinghe's knowledge , he was arrested on the 9 th. A sum of Rs. 110 million of the robbed monies had been credited to Munasinghe's phony Foundation account. In other words the largest fraction of the robbed sum that came into SL , was credited to Munasinghe's 'Shalika foundation' account.
Yet another portion of this robbed money which came in had been credited to another account , and investigations and investigators are on the trail of the owner of that account.
According to the International bank 's Taiwan branch , out of this robbery of US dollars 60 million , only a small sum of US dollars 500,000 .00 had not been found still. The balance monies in Kampuchea , America and SL have already been tracked down.
About a year ago , a Sri Lankan businesswoman on the same lines using the wire transfer method and the SWIFT symbol , robbed US dollars 20 million from Bangla Desh Central bank . The Sri Lanka CID however was able to make the detection and recover the sum in full.
( Courtesy –Taiwan Times , Taiwan News, Shanghai Daily , and News Talk Taiwan )
---------------------------
by (2017-10-10 18:31:26)
We are unable to continue LeN without your kind donation.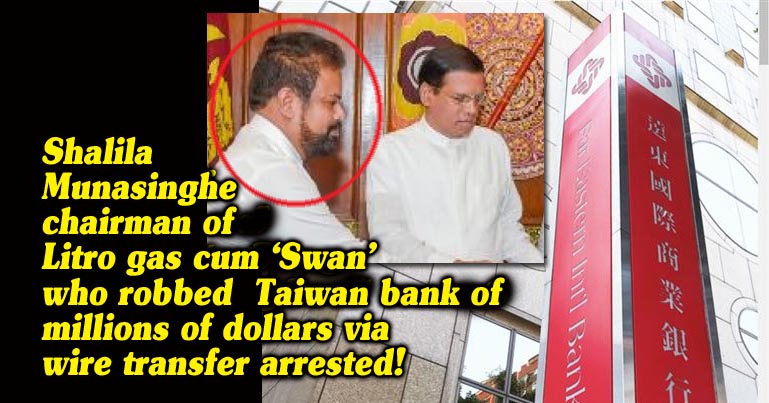 Leave a Reply