Why no punishment to Yoshitha for the irretrievable damage he caused to the Navy ? Long questionnaire to new Navy Commander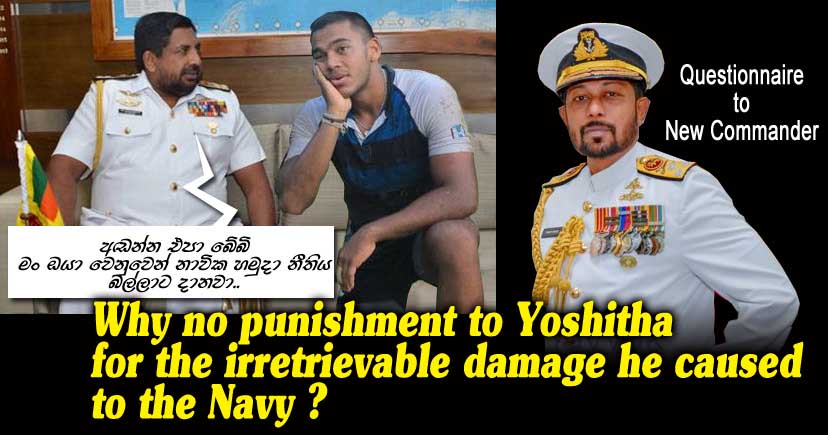 (Lanka-e-News - 24.Aug.2017, 4.00 PM) It was some days after Lanka e news reported on 2016 -02-14 under the caption 'The present Navy Commander who servilely served Yoshitha then is disdaining Naval laws on his behalf now..!' and exposed the criminal involvement of Lieutenant Yoshitha Rajapakse in the colossal financial misappropriation relating to the CSN channel , Yoshitha was suspended from the Navy. However such a suspension is not a punishment because any Naval officer who faces charges is suspended as a matter of routine. It is just a preliminary temporary action taken by the Navy.
It was very evident that the then Navy Commander Vice Admiral Raveendra Wijegunaratne had no intention or inclination to punish Yoshitha . However following the exposure by Lanka e news , all what the Navy commander did was , only not permitting Yoshitha to perform any official duties . In other words what the Navy commander did to this suspect incriminated in a grave case of financial misappropriation was , allowing Yoshitha to stay at home, idle and enjoy to the hilt with his family members. That is , the then Navy Commander when he got cold feet following Lanka e news' revelation ,arranged for Yoshitha to be 'sweetly rewarded' under the guise of bitter punishment .
After Yoshitha was suspended from Naval service, there was no progress on the preliminary probe into the charges against him . That is , though his suspension was based on an ongoing civil case filed against him outside , it is to be noted ,there was nothing to preclude him from being called to the Naval headquarters for an internal investigation because suspension from duties does not mean discharged from the Navy.
Based on these records it was the general consensus among all of the Navy that Vice admiral Wijegunarane will not take any action against lieutenant Yoshitha Rajapakse.
Now, the new Navy Commander has assumed duties . Hence it is important and imperative his attention is drawn to Yoshitha's incriminations so that an investigation shall be duly conducted. Hereunder are several grounds to support this …
1.) To join the Navy as a Officer Cadet, a candidate should have certain minimum educational qualifications. It is a crucial question , then why did the Navy suddenly bring down the minimum educational qualification , only in respect of the 45th intake (Yoshitha's batch only ) ? Who took this decision and who was responsible?
2.) An Officer Cadet cannot join the Executive branch without passing A/L exam either in the Maths or Science stream. Why did the Navy suddenly allow candidates who have done A/L exam in Arts stream also to join the Executive branch? This was also only in respect of the 45th intake. Who was responsible for this ?
3.) What happened to the report of the Board of Inquiry appointed by Vice Admiral Wijegunaratne? What were its recommendations and what was the progress made in that regard ?
4.) It was the established procedure and practice that the Best Cadet or Midshipman of the batch is selected to follow the training course at Dartmouth Royal Naval academy , UK. of the Commonwealth .The UK started offering this rare privilege to Sri Lankan Navy (SLN) a few decades ago. For example, Vice Admiral RC Wijegunaratne and also Vice Admiral Travis Sinniah also followed this course.
On the contrary , Lt. Y.K Rajapaksa was selected just after some couple of weeks of 'special queer training ' at (NMA) Naval & Maritime Academy (at that time Commandant of NMA was Wijegunaratne), to fill the vacancy offered to the senior batch (intake 44), and was dispatched to the Commonwealth Dartmouth Royal academy. In addition , to fill the vacancy which was offered the following year, Lieut. Dissanayake, was chosen and dispatched . He was Yoshitha's batch-mate and a close relative.Who took this decision and who was responsible?
5.) As per the information we gathered , Lt. Y K Rajapakse did not successfully pass the examinations at Dartmouth, UK. In that event, as per the naval regulations, the total cost of the course should be recovered from him. This rule applies to any officer who follows a training course out of Navy's funds, whether it is local or foreign training.
6.) The saddest aspect of all these shocking violations of Navy regulations is : Because the performance of these two Naval morons selected sans merits were so egregiously poor while following the training course at U.K. Dartmouth Royal Naval College , the latter decided they should not offer such training programs to Sri Lankan officers in the future for they are far below par. That is, the SL Naval officers are not fit at all and therefore do not merit such training.
Who was responsible for that huge national loss ?
Let us hope the new Navy Commander will have the strength and spirit to probe into these grave mishaps with a view to mete out punishment to every one of these wrongdoers irrespective of their status or ranks.
Yoshitha has not been discharged from the Navy yet, meaning that he can be re-appointed at anytime restoring all his services/and privileges that he missed, including arrears of salary.
It is therefore most paramount in the national interests to take immediate action to launch an impartial investigation , and if Yoshitha is found guilty , it shall be ensured his commission is withdrawn , and he is discharged from the Navy in accordance with the Navy regulations applicable to all Naval personnel without exception.
A concerned Naval officer in the best interests of the Navy
Connected report..
The present Navy Commander who servilely served Yoshitha then is disdaining Naval laws on his behalf now..!
---------------------------
by (2017-08-24 10:42:47)
We are unable to continue LeN without your kind donation.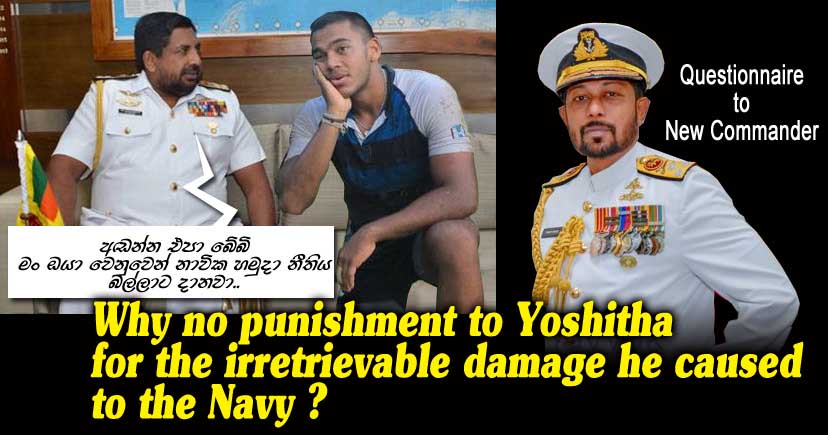 Leave a Reply