As Wijedasa's guard and mask drop off so the corrupt villainous Medamulanas step in to rescue culprit !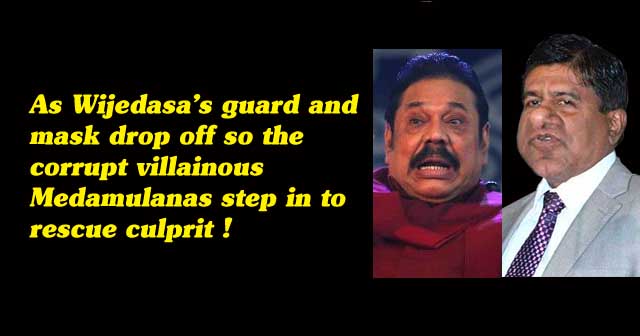 (Lanka-e-News - 22.Aug.2017, 8.45PM) It is a well and widely known fact that notorious Wijedasa Rajapakse did everything possible to save the corrupt criminal Medamulana Rajapakse group in the criminal involvements of theirs while he was the minister of justice. But now the most infamous Medamulana Rajapakse clan in their desperation is trying to rescue themselves by resorting to new devious methods and dubious mechanisms , based on reports reaching Lanka e news inside information division.
This new evil methodology aims at intimidating and threatening the judges hearing the cases. As a preliminary step , they are to mount bogus charges against the High court judges hearing their cases , and file petitions.
The lawyers for the brutal corrupt Medamulanas have filed petitions against the Judicial Service Commission and the Chief Justice. The lawyer who is in the vanguard of these villainous criminal moves is a most sinister lawyer Jayantha Weerasinghe .It is this same lawyer who was with Shiranthi Rajapakse when she was summoned to the CID recently. Now the latest lawyer who had joined the Medamulana lawyers' sinister team is none other than another notorious culprit Wijedasa Rajapakse . Other lawyers who have also joined the Medamulana team are the lackeys and sidekicks of Wijedasa .Unlike birds of a feather flocking together for innocent reasons , these lawyers on the contrary have come together for the most nefarious reasons to the detriment of the country with the sole and whole objective to rescue the culprits by foul rather than fair means .

Based on reports reaching Lanka e news , if their petitions are not successful , they are to intimidate and pressurize the judges . This group has conspired even to go beyond to achieve their dastardly vicious goals.

These conspiracies are therefore being highlighted ahead so that the officials will open their eyes as well as awake to forestall those evil machinations and subterfuges with a view to crush them once and for all.

---------------------------
by (2017-08-22 15:14:06)
We are unable to continue LeN without your kind donation.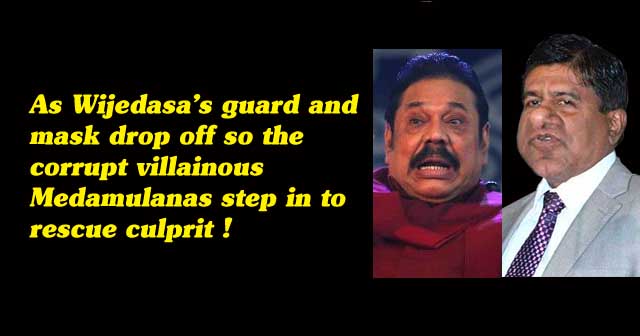 Leave a Reply