Rajapakses haunt CID and FCID..! Shiranthi at CID, Rocket Rohitha at FCID for questioning !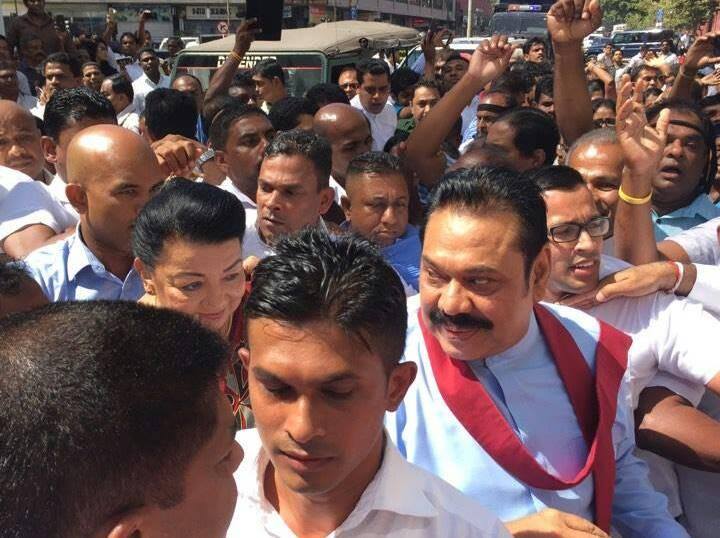 (Lanka-e-New - 15.Aug.2017, 11.45PM) Shiranthi Wickremesinghe Rajapakse who was evading the CID hitherto finally appeared at the CID today (15) to record her statement . Shiranthi alias " Medamulana Ran Ammandi', wife of infamous Medamulana Percy Mahendra Rajapakse M.P . Kurunegala district appeared at the CID along with Mahinda Rajapakse and Namal Rajapakse as well as some Joint opposition M.P.s- the slaves. They assembled on the CID precincts. Gotabaya too arrived along with supporters summoned by the Rajapakses.

When Percy Mahendra and lawyers asked for permission to be present close to Shiranthi while she is being questioned , they were refused , and the CID officers told them they could sit elsewhere , and not where the interrogation was being conducted.
Shiranthi was interrogated for over one and half hours by the CID before her statement was recorded.
Though they were told a vehicle of Rajapakses may be taken into the premises , they were reluctant to comply because they craved for publicity as always via the TV cameras.
When Percy Mahendra asked from the CID officers whether Shiranthi will be arrested , the CID had replied that can only be said , after the interrogation. Shiranthi was questioned on the Defender vehicle that was used for Thajudeen's murder. That vehicle was gifted to Shiranthi by the Red Cross.
Meanwhile , Rocket Rohitha alias 'Chichee' notorious son of infamous Percy Mahendra too was summoned to the FCID in connection with the misappropriation of a whopping sum of Rs. 320 million citing that a satellite belonging to Sri Lanka is going to be launched. He was questioned on this misappropriation. What happened to all that money or what was done with that are unknown yet !
---------------------------
by (2017-08-16 01:35:39)
We are unable to continue LeN without your kind donation.
Leave a Reply