Foreign ministry secretary who awarded foreign scholarship to sex maniac 'Mal Kumaraya' ousted !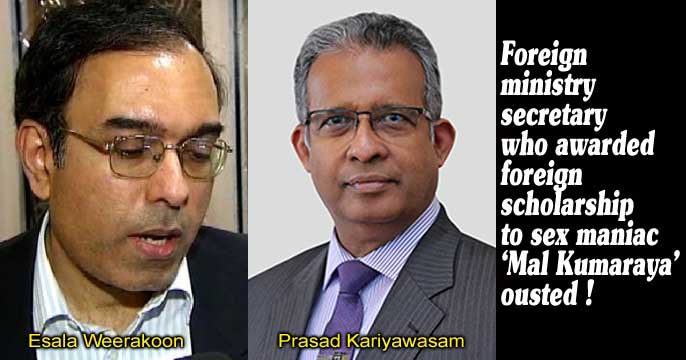 (Lanka-e-News- 01.Aug.2017, 11.30PM) Secretary to the ministry of foreign affairs Asela Weerakoon who arranged a foreign scholarship to the Director General Pushpakumara instead of punishing him for his illicit lascivious involvements which included sexual molestation of a woman has been removed from his post . Asela organized the scholarship to Pushpakumara despite the fact that the latter was retiring within a year , while giving a transfer to the victim of this sex pervert !
In place of Pushpakumara , popular Prasad Kariyawasam who was the Sri Lanka ambassador to Washington has been appointed as the new secretary to the foreign ministry.
Asela could carry on duties as secretary to the foreign ministry barely for about a year. He is now appointed as secretary to the ministry of tourism promotion.
Now opportunities are knocking at the doors of the maniacal officers in the tourist promotion involved in sexual abuse to secure foreign scholarships via Asela . That is , they must as far as possible indulge in sexual abuse and illicit immoral activities , if they are to obtain a foreign scholarship through the new secretary.
Lanka e news while exposing the maladministration on the 28 th questioned , where on earth do you find state secretaries who arrange foreign scholarships to sex perverts against whom there is also a complaint at the women's bureau of the police ?
We are indeed pleased that the report of Lanka e news has reaped the desired result !
Connected report ..
Truth is stranger than fiction ! Infamous Malkumaraya famous for sex abuse offered foreign scholarship !
---------------------------
by (2017-08-01 22:52:08)
We are unable to continue LeN without your kind donation.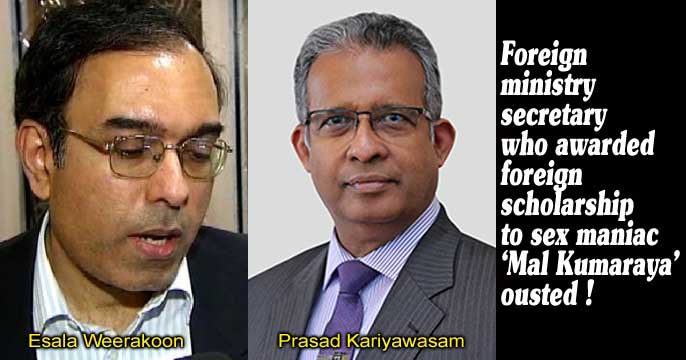 Leave a Reply