30 dead in garbage dump collapse ! Rs. 2.5 million compensation for each house damaged
-Left parties fatten even on death and despair like vultures ; uncultured residents hoot at forces engaged in rescue operations !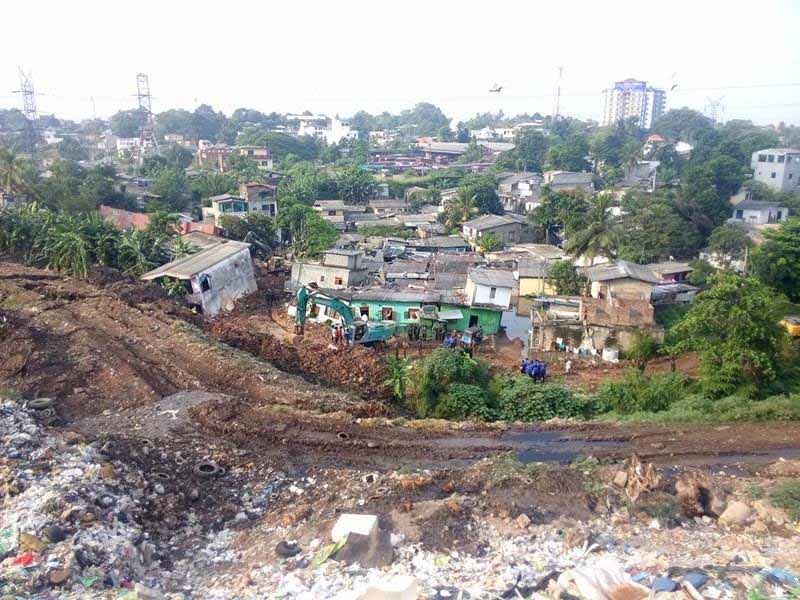 (Lanka-e-News -19.April.2017, 9.50PM) A sum of Rs. 100,000.00 is to be paid to the family of every victim who died in the Meethotamulla tragedy , and a sum of Rs. 2.5 million is to be paid to each family that lost its home, the government decided.
Though the residents earlier said 145 houses were destroyed , in fact only 69 houses had been affected , according to the officials. This was confirmed when lawyer Nuwan Bopage speaking on behalf of the residents told the BBC on 16 th that following the discovery of 20 dead bodies , there are another about 20 bodies still underground . Accordingly , when the total number of deaths is 40, there cannot be as large a number as 145 destroyed houses.
No matter who says what about the number dead , it is impossible to determine the exact figure , mainly because they are unauthorized residents.
After the government notified that the garbage dump was disaster prone , about 300 residents left the location , Bopage himself told the BBC . Those who remained back are those who claimed ancestral ownership, Bopage added.
In any event this is a most amusing and hilarious revelation . When there is danger to the lives whether it is now or from an earlier time , it is sheer madness if the people are to stay back in spite of the imminent danger citing ancestral ownership. Simply saying ' we did not go to the vicinity of the garbage dump but that was brought into our midst' in order to assert ancestral rights despite being notified of imminent danger to lives savors only of unalloyed lunacy. Their claim that they did not have any other place to go is also a blatant lie.
Going by the revelation made by Bopage himself , then where did those 300 residents go it they truly did not have a place to go ? Didn't they leave because they had a place elsewhere ? While it is an inborn trait of every living creature to run away when sensing danger to their lives , 'Bopages' are concealing this glaring truth in order to make a fast buck even on death and despair , and for no other reason.
Bopage's utterances notwithstanding , this land about 35 years ago was a swamp with some wattle and daub huts , and there wasn't even a cattle shed . The writer is fully aware of this . Hence talking about ancestral rights is unadulterated bullshit.

Of course , though we are exposing the stark truths which are being sought to suppress , we do not under any circumstances condone or pardon the 'garbage mafia' , or justify the negligence and neglect of the political authorities under the mafia that took no action for so many decades . This is because irrespective of the situation , it is the inescapable responsibility of the political authorities under the powers that be to act in the best interests of the masses.

Left parties best known for selling even their souls sell the 'remains' of the dead for cheap political gains ….
Meanwhile , a group including the minister for peace and southern development Sagala Rathnayake , IGP Poojith Jayasundara and army commander Lieutenant General Krishantha De Silva who went to inspect the tragedy on 17 th morning were hooted at by the barbaric residents in protest .
This kind of behavior directed against the chiefs of the police and the forces that are engaged in search and rescue operations day and night to find the dead bodies for and on behalf of the residents is unpardonable and inexcusable under any circumstance. No civilized society would tolerate this attitude. It is a disgrace that these barbaric blokes did not possess the basic human trait of welcoming a visitor even if he is an enemy to a funeral house , or an enemy who comes to render assistance to those suffering, despite the fact this is a time honored custom of cultured Sri Lankans .
This was something most disgusting and no civilized being can feel happy about. It worthy of note it is a leftist group of politicians including Peratugami party opportunists that have incited and provoked these foolish uneducated people . These political opportunists even during the funeral procession on the 17 th, like vultures fattened on death and despair taking advantage of this monumental tragedy for selfish political gains by carrying placards and displaying slogans. The entire sacred burial ground was desecrated by these hypocritical political villains who wanted to pose off as heroes in vain.
Minister Sagala Ratnake deserves praise for enduring the uncultured behavior of the uncouth people who hooted at him not once but twice , and coming forward .
The number of deaths by 17 th afternoon rose to 30 . Among them are 15 males and 15 females including 6 children.
Of the 30 bodies discovered , 8 of them were interred at the Kolonnawa cemetery on the 17 th . Mind you , it is on this solemn occasion the leftist politicians who haven't a place except in the garbage bins displayed their stinking 'hypocritical party colors' in order to capitalize politically.
Megapolis minister Champika Ranawake had meanwhile issued a notification banning disposal of garbage on lands of Urban development Authority with effect from 1 st of May.
---------------------------
by (2017-04-19 16:38:10)
We are unable to continue LeN without your kind donation.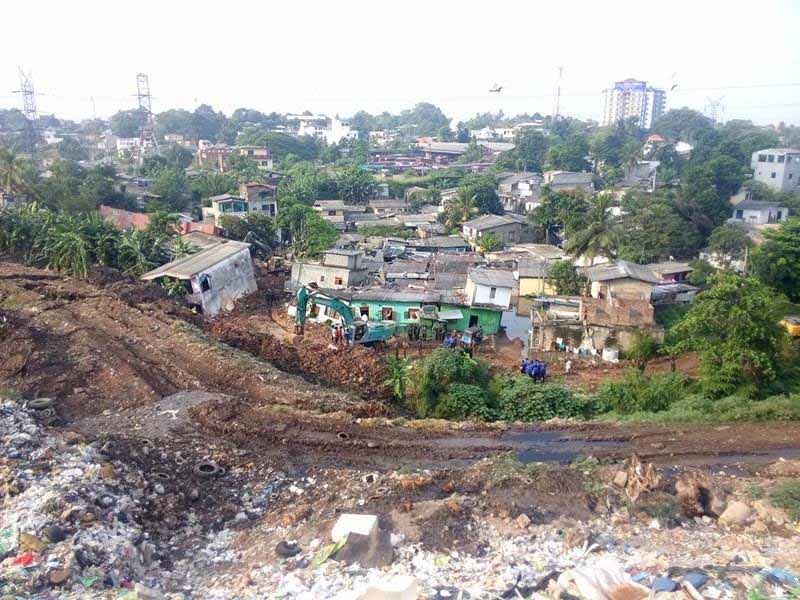 Leave a Reply