Derana TV which abused its TV transmission asked to give explanation before cancellation of media license !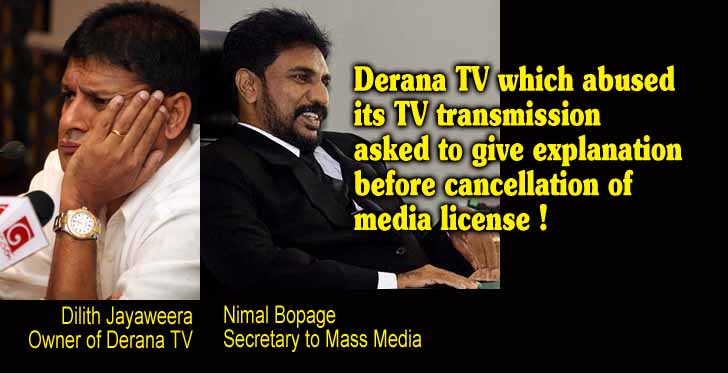 (Lanka-e-News -09.April.2017, 5.20AM) Derana media chain had been found guilty of using its electronic transmission frequency to distort the statement made by president Maithripala Sirisena in regard to war heroes being hauled up in courts . The Derana media chain a public property engaged in business has in between the "Sathviru Sanhinda' program made the distorted transmissions.
The three member independent committee that was appointed to inquire into this had found Derana guilty . The secretary to mass media ministry Nimal Bopage ,lawyer has sent a letter to Derana calling for an explanation in its defense before he could take further action.

The president earlier on expressed his displeasure in regard to war heroes being hauled up in courts . There, he made reference to war heroes who fought the war being summoned to courts without his knowledge , and not in relation to ex defense secretary being hauled up in courts.
Derana TV which made the relevant video footage , had included 'ex defense secretary' in it as an additional part , of its own accord. Hence in the transmission ' summoning ex defense secretary and commanders of the forces' was broadcast , against which the president had taken offense .
At the same time , a dedicated group that worked with commitment on behalf of good governance mounted a stiff opposition against the president alleging that the latter is seeking to safeguard ex defense secretary .The reason for this was Derana's deliberately distorted transmission of president's statement .
When the mass media secretary by virtue of the legal powers vested in him made inquiries from the relevant Institution , Derana began launching scathing attacks via its media on the mass media secretary who used their channel .
Derana therefore was found guilty following an investigation to ascertain whether the mass media ministry was subjected to vilification owing to Derana.
Though Derana was intimated to make its representations on its behalf via its representative , they ignored it , the recent letter sent by the mass media secretary indicates.
The mass media secretary has therefore sent this letter to Derana granting 14 days time to file answers on its behalf.
In any event , if the Derana channel continues with its villainy and obnoxious tactics without condescending to a peaceful settlement or a public apology , the prospects are , it could face a minimum punishment of suspension of its electronic frequency media license for three months.

The country's electronic frequency being part of so called public property , it is the government that renews the license annually of the transmission frequency leased out by it to these private businessmen subject to a number of terms and conditions . The licensee who abuses this public property in violation of the terms and conditions is liable to punishment . A number of media Institutions have previously faced punishment .
A copy of the official letter sent by mass media secretary Bopage sent to Derana television executive director Madhawa Madawela in connection with the misuse of its channel is herein. The image hereunder can be magnified by clicking on it , and by clicking again on the icon , the letter can be read after enlargement .
---------------------------
by (2017-04-09 00:03:59)
We are unable to continue LeN without your kind donation.
Leave a Reply