MR displaying posters to self glorify exploiting demise of Ven .Duvuldena Thera condemned even by Lord Buddha as 'low born' trait !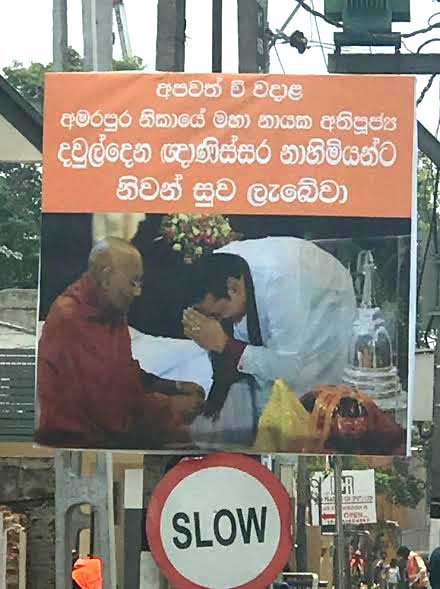 (Lanka-e-News -07.April.2017, 9.45AM) The funeral of most Ven. Aggamaha Panditha Davuldena Gnanissara Thera the mahanayake of Sri Lanka (SL) maha sangha the apex religious body , took place on the 6 th of April with due performance of religious rites and with full state honor. However , this most solemn and sacrosanct occasion was most profaned by a most disgraceful display never before witnessed at such funerals in S.L.'s history, and the 'low born' (in Lord Buddha's words) individual responsible for this disgraceful sacrilege was no less a person than Machiavellian Mahinda Rajapakse the deposed people discarded ex president.
That is , as always deposed people discarded ex president Mahinda Rajapakse best known for worst hypocrisies and perfidies exploiting even death and despair of others , as well as being characterized by the overriding trait of a ghoul had cashed in on this bereavement too to score political plus points via poster displays and shameless vain self glorification.
These posters had been printed with an enlarged photo of Machiavellian Mahinda Rajapakse worshipping the most Ven .Thera with the inscription ' may he attain Nibbana' . In addition , the photograph depicts the 'pirikara' that he gifted . The true Buddhists who saw this exclaimed 'Aney apoy' in rude shock .
Low bred low born individuals like Mahinda Rajapakse have no qualms about taking advantage even of the demise of a most venerable religious personality to make a selfish self vainglorious display of themselves even profaning the hallowed ceremonies and committing sacrilege only to demonstrate this is how they hypocritically worship Lord Buddha.
' If an individual glorifies himself based on his acute inferior imagination , he is one of low birth'
(Lord Buddha – Suthra pitakaya, Buddhaka Nikaya, Suttha nipathaya, Uraga Vaggaya , Wasala suthraya – No. 132)
---------------------------
by (2017-04-07 04:20:18)
We are unable to continue LeN without your kind donation.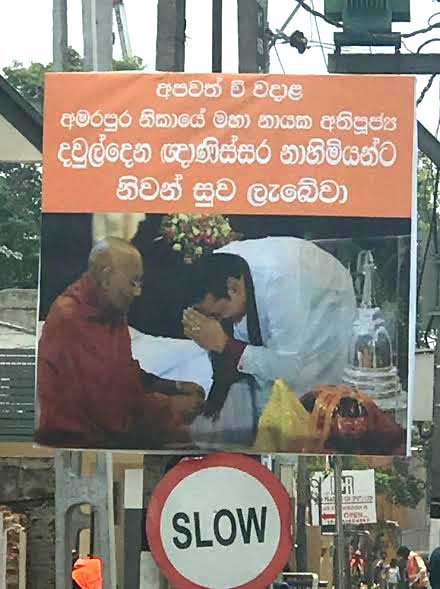 Leave a Reply