Half million for a song just to move the lips..! Ray Raymond , Bhathiya- Santush revel in the plunder
-Cricket association gobble funds while Thilanga and Dayasiri pretend they are asleep !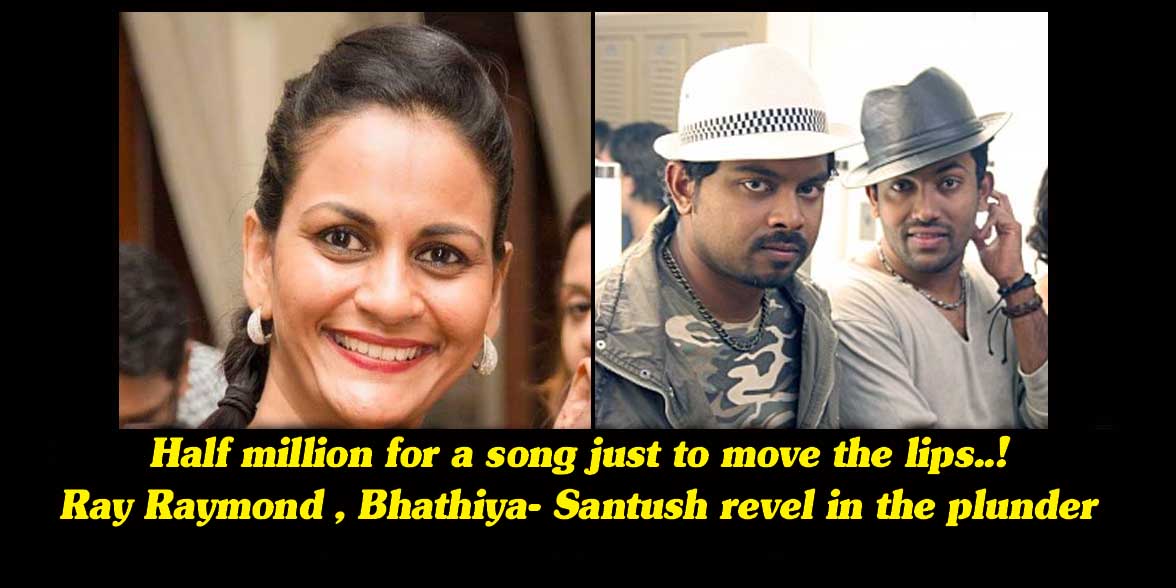 (Lanka-e-News -28.Jan.2017, 10.20PM) Currently , 'misuse' is the most widely talked about topic in the country. Among the misuse specially are vehicle misuse and cash misuse (misappropriation) . Those names mentioned in these crimes are ex president Mahinda Rajapakse and his family , ministers of the previous regime as well as MPs and ministers of the present government.
Though the Sri Lanka cricket Association was able to clinch the world cup in 1996, so far ,no matter who headed the administration or what the latter did , it had failed to put a full stop to 'misuse'
In the COPE report of Sunil Handunetti , it has been clearly pointed out that Thilanga Sumathipala and his clan who were selected by the good governance government to maintain a good administration better than all those before , has instead been most successful only in the sphere of 'misuse'
Free water and minister
This misuse alias plunder has been carried out without let or hindrance. It is a well and widely known fact that this plunder and robbery relate to state funds, and since its administration comes under the sports ministry , it is the duty of the government to probe into this. Unfortunately however , the sports minister too is dancing to the tune of Thilanga like his puppet .
The sports minister is not without gain for his role of a puppet under Thilanga . Countless benefits including free foreign tours and cash disbursements are being lavished on him out of the cricket association funds, and towards building the minister's vote base in Kurunegala district. In fact the minister even got an opportunity to earn 'merits' by distributing bottles of water for the drought relief victims at Kuliyapitiya sponsored by the ' SL Cricket Aid'. These were the bottles of water which remained of those collected for distribution to flood relief victims. It were the trainers at the Cricket association who were deployed for this task.
The annual 'Dialog cricketers awards night' too was split into two this time. That is , into 'international' and 'National'. Part of the cash received from Dialog was used for the 'international awards' ceremony , and subsequently , the awards distribution to the winners in the national tournaments was held at the Taj Samudra hotel , Colombo.
Can you beat that ? Just for one song and to move the lips , half million rupees down the drain !
This national awards ceremony night was organized in an unholy haste with the ulterior motive to please the members of sports society officials who will be using their votes at the cricket board elections .These days many millions of rupees are being spent towards their sumptuous dinners and unlimited liquor consumption .In addition , a sum of Rs. 8,316 ,197 .00 was paid to 'ShowTown Co.' for their event management at the 'international' awards ceremony held earlier. This colossal sum of nearly Rs. eight and half million being spent towards this is most rudely shocking .
The owners of Show Town are Bhathiya and Santush , and the Co. is located in their home. More shocking news ……. Bhathiyas who undertook to manage everything have claimed Rs. 175,000.00 for just a song they sang that day !!
Jagath Wickremesinghe and Umariya have charged Rs. 1,60,000.00 and Rs. 150,000.00 respectively for each song. What is most intriguing and dismaying in this racket is , a further amount of Rs. 45,000.00 has been collected for each track to provide background music for each song .
Based on these colossal expenditure , just to move the lips on stage for a song , half a million rupees have been paid ! All these profligate expenditures are shown in the image hereunder . This can be magnified by clicking on it.
A wasteful project of this sort was carried out by a Company by the name of Shift earlier. This advertising Co. collected massive sums of cash for organizing the International awards night ceremony , as well as the function to send off the SL cricket team for the 20-20 world cup tournament . It is the Cricket Association assistant secretary Raveen Wickremeratne who transacted the deals with this Co. The illicit commission collected by him was in millions.
The approval for the estimate was obtained weeks after the contract was concluded !!
Ms. 'Ray Raymond' who was recently enrolled as a member of the staff of Cricket Association by Thilanga Sumathipala is now the chief of its sales division .Ray Raymond who is angry with Raveen, by saying the 'international awards night' was a failure , she took control of the national awards night function ,and a whopping Rs. 10 million or more of the cricket association funds was sent down the drain through illicit deals well planned and executed. Towards this ,Rekawa a young lawyer who is employed at the Cricket Association as a legal consultant and fiance of Ray Raymond has extended his fullest support .
Though the permission of the executive committee is necessary when such huge expenditures are being incurred , and tenders must be called , the approval for this colossal estimated amount of Rs. 8.3 million after assigning the contract to Show Town had been obtained only several weeks after the awards night was concluded. Can there be an outrageous misuse of funds bigger than this anywhere else?
Incidentally , Ray Raymond ammandiya a wheeler dealer is engaged in the two penny half penny business of selling lunch packets inside the association
Thilanga the gambling villain
… so as to allow and encourage wheeler dealers to creep into the Association
It is being questioned by the employees whether this amount of misuse engaging all the talents is being carried out with the knowledge of Thilanga Sumathipala ? That is because they are selling Thilanga's name boldly when indulging in these wastages and misuses , saying ' Boss told' , 'it is Boss' work' etc. Does that mean , all these rackets are raging either with the knowledge of Thilanga or his subordinates are hoodwinking him ? But hoodwinking Thilanga is no easy task because though Thilanga is a gambling villain , he is not a gambling fool.
The special reporter of Lanka e news which always champions the cause of truth fearlessly will be exposing the details of the wheeler dealers within the Cricket Association shortly. When that happens COPE Committee chairman Handunetti will be able to garner copious information about them and prepare a report comprised of a bundle of documents about the Cricket Association.
By a special Lanka e News reporter.
---------------------------
by (2017-01-28 17:07:44)
We are unable to continue LeN without your kind donation.
Leave a Reply